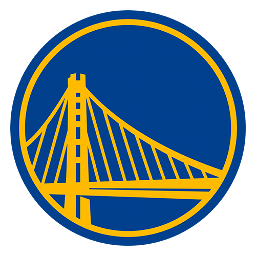 | | 1 | 2 | 3 | 4 | T |
| --- | --- | --- | --- | --- | --- |
| GS | 31 | 33 | 38 | 29 | 131 |
| HOU | 31 | 28 | 21 | 26 | 106 |

Klay Thompson gets defensive as Warriors down Rockets again
HOUSTON -- Klay Thompson had a great night offensively on Saturday.
More impressive, though, was his work on defense as he limited NBA leading scorer James Harden to just 11 points.
Stephen Curry and Thompson scored 27 points each and the Golden State Warriors used a huge third quarter to roll to a 131-106 win over the Houston Rockets.
Thompson was asked if he takes pride in building a reputation as someone who can be dominant on both ends of the floor.
"I do. I really do," he said. "I just want to continue to prove that and get better every game."
Coach Steve Kerr raved about Thompson's work on Harden, who went 4 of 15, including 0 of 4 on 3s, to finish well below his average of 27 points a game.
"Klay did a great job," Kerr said of the guard, who had a career-high five blocks. "I thought Klay did a good job of avoiding fouls and then contesting late."
Golden State rebounded from a loss to Oklahoma City on Friday night that snapped an eight-game winning streak.
"Anytime you get a bounce back win and finish a four-games-in-five-nights stretch 3-1, that's big," Curry said.
The Warriors led by five at halftime and used a 38-point third quarter, with 15 points from Curry, to take a 22-point lead into the fourth.
Dwight Howard, who missed the first two games against the Warriors, led Houston with 23 points and 10 rebounds.
The Rockets got five straight points from Kostas Papanikolaou to cut the lead to 110-94 with seven minutes left, but Golden State scored nine quick points after that, led by Curry's five, to make it 119-94 and cruise to the win.
It is Golden State's NBA-leading 24th double-digit victory and its third win over Houston this season. It's the first time the Warriors won a season series against the Rockets since 2006-07.
They finish the series on Wednesday at Golden State.
A 3-pointer by Josh Smith cut Golden State's lead to 10 with three minutes left in the third quarter. But the Warriors capped the quarter with a 12-0 run, with eight points from David Lee, to go up 102-80 entering the fourth quarter. Houston had four turnovers to help the Warriors build the lead.
"That third quarter was ridiculous," coach Kevin McHale said. "We couldn't get a stop, we turned it over and we just lost all of our fire. We had nothing."
The Warriors scored the first five points and the second half to push the lead to 69-59. The Rockets used a 7-1 run, with four points from Howard, to get within 70-66 a couple minutes later.
Curry, who had 11 assists, got Golden State going again after that, making an off-balance layup as he was fouled. He tumbled backward and landed on top of a cameraman on the sideline before falling to the court.
He made the free throw and those three points were the start of a 10-2 run that extended the advantage to 80-68 midway through the third quarter.
The lead had changed 11 times and it had been tied 11 other times before Houston used a 7-0 run to make it 59-55 with about two minutes left in the first half.
Kerr called a 20-second timeout and the Warriors regrouped and finished the half with a 9-0 spurt to a take a 64-59 lead into halftime.
"Our guys did a great job the two minutes of closing the quarter and getting a couple of hoops and re-establishing ourselves and I think that carried over to the third quarter when we really went on a good run," he said.
TIP-INS
Warriors: Andre Iguodala got a technical foul in the second quarter. ... It's the first time Golden State has swept a road series against the Rockets since 1975-76.
Rockets: Howard received a technical with about 10 minutes left in the first quarter for arguing an offensive foul. ... Golden State's 64 first-half points were the second-most Houston has allowed before halftime this season. ... Golden State's 38 points in the third were the most the Rockets have allowed in a quarter this season.
KERR'S QUIP
Kerr rested Andrew Bogut and Iguodala on Friday night against the Thunder and was asked before the game if he has a better handle on when to give players time off since he played for 16 seasons.
"My coaches often rested me when I was fine," he deadpanned. "So I'm not sure if really have a handle on it or not."
UP NEXT
Warriors: Host Nuggets Monday.
Rockets: Host Pacers Monday.
Regular Season Series
GS leads 3-0
Toyota Center (Houston)
8:00 PM, January 17, 2015
Coverage: NBA TV
Attendance: 18,458
Capacity: 18,055
Referees:
Tony Brown
Dan Crawford
Scott Twardoski
2022-23 Pacific Standings
2022-23 Southwest Standings