WESTERN CONFERENCE 1ST ROUND - GAME 2
GS leads series 2-0

| | 1 | 2 | 3 | 4 | T |
| --- | --- | --- | --- | --- | --- |
| HOU | 30 | 28 | 21 | 27 | 106 |
| GS | 33 | 33 | 20 | 29 | 115 |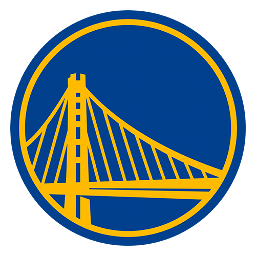 Warriors win Game 2 vs. Rockets with Stephen Curry (ankle) on bench
OAKLAND, Calif. -- As Stephen Curry emphatically waved his arms to ignite the crowd and coached from the bench when he could do little else, Klay Thompson and the Golden State Warriors' supporting cast proved they can win on the playoff stage without their NBA MVP.
They would rather have him, of course, but the defending champions have believed in their depth all along. Golden State played shorthanded down the stretch of the regular season on their way to a record 73 wins.
"We've relied on our depth all year -- not just when Steph's out," Draymond Green said. "I think we're the deepest team in the NBA."
Thompson scored 34 points and dished out five assists, and the Warriors held off the Houston Rockets 115-106 on Monday to take a 2-0 lead in their playoff series, despite no Curry, who was sidelined because of an injured right ankle.
"It's so much easier without him out there. When Steph's out there, his man just sags in the paint, he doesn't move the ball, he's a very selfish teammate," Thompson cracked. "I'm just kidding, man. He's the exact opposite of that. I think we showed it's hard to fill that void. No one's going to do it by themselves."
Curry cut his pregame warm-up routine short after appearing to be in discomfort when shooting while putting little pressure on the tender ankle.
Andre Iguodala, last year's Finals MVP, added 18 points with four 3-pointers, and Green had 12 points, 14 rebounds and eight assists. He didn't commit a turnover in 39 minutes, his longest stretch without one in the regular season or playoffs.
Now Curry has until Thursday to get healthy for Game 3 in Houston. But the Warriors aren't going to push it with the game's best player.
"We want to make sure Steph is right and that his foot is fine and healthy," coach Steve Kerr said. "Fortunately, we don't play 'til Thursday, and he's got some time to get some treatment."
James Harden had 28 points and 11 assists to lead the Rockets, losers of six straight and 14 of 15 to Golden State. He made 13 of 15 free throws after not attempting one in the opener of the series.
Big man Marreese Speights hit a key 3-pointer from the baseline with 8.2 seconds remaining in the third quarter to make it 86-79, and the deep, versatile Warriors showed they can win on the playoff stage without Curry, just as everybody on the roster believed.
Golden State beat the Rockets without Curry on New Year's Eve on Houston's home court and did so again Monday at rocking Oracle Arena.
Harden considered it a missed opportunity.
"We just didn't do enough to get a win," he said.
Shaun Livingston, who left Sunday's practice with an illness, had 16 points and six assists playing in Curry's place.
After a 26-point victory in Game 1, the Warriors had to work a little harder in Game 2. Dwight Howard's dunk of an alley-oop pass with 6:54 left in the third pulled the Rockets within 71-67, but Golden State kept answering with timely baskets.
Kerr called for better ball movement, hard cuts and intensity on defense in Curry's absence. For much of the game, the Warriors did those things well.
Kerr looked at more film from that Dec. 31 game in Houston the past couple days, after also watching it before Curry's latest injury.
On three occasions in the first half, Harden drew a foul beyond the 3-point line and sent the fans into fits. He missed seven of eight 3-point tries and committed five turnovers.
"Every time we reached, we fouled him, and they were all fouls," Kerr said.
But it was Thompson's three free throws after interim Rockets coach J.B. Bickerstaff's technical with 7:16 to play that helped seal this one. Livingston scored the next time down for a 99-86 lead.
Curry took the court some 90 minutes before tipoff and went through his normal dribbling session before he started shooting, then the ankle became tender.
"It's our turn to step up and carry him," Green said.
TIP-INS
Rockets: Houston is 0-5 all time in the postseason on Golden State's home court and 1-6 overall in playoffs. ... Harden went to the free throw line for three attempts -- his first of the series -- at the 6:41 mark of the first, then tried to shoot under pressure from long range midway through the second quarter to draw a foul on Ian Clark.
Warriors: Iguodala's four 3s matched his most in the playoffs with Golden State. ... Thompson hit a 3 in his 31st straight playoff game. He has made 21 of 22 free throws in the series. He made 15 of 16 on Monday. ... Livingston notched his 11th career postseason start and first with the Warriors. ... Golden State had 12 turnovers after committing 18 in Game 1, including 11 in the third quarter.