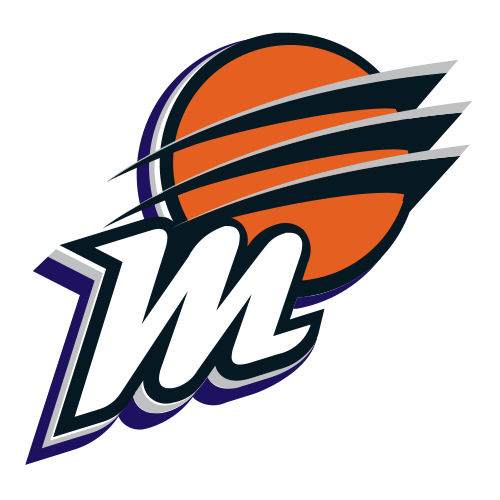 | | 1 | 2 | 3 | 4 | T |
| --- | --- | --- | --- | --- | --- |
| PHX | 13 | 24 | 15 | 30 | 82 |
| SA | 23 | 22 | 21 | 22 | 88 |

Danielle Adams, Danielle Robinson score 20 each in Silver Stars' win
SAN ANTONIO -- Defenders are having trouble keeping up with Danielle Robinson, so the speedy San Antonio Silver Stars point guard expects to take a few blows as teams try to slow her.
Sporting a pink Mohawk in honor of the team's Breast Cancer Awareness Night, Robinson fought through two hard fouls that knocked her to the floor and overcame running neck-first into an extended arm.
Robinson and Danielle Adams scored 20 points each and the Silver Stars beat Phoenix 88-82 on Saturday night, handing the Mercury their first loss under interim coach Russ Pennell.
"It was a very special game to play in because of the meaning," Robinson said. "Dyeing my hair was something that was very cool and I think I am going to keep it for a little while. Just to play in front of our fans, especially those affected by breast cancer, was an honor."
Jia Perkins added 17 points and Shenise Johnson had 15 for San Antonio (9-15).
Robinson also had eight assists while going 10 for 11 on free throws while taking the brunt of the blows in a chippy contest between the Western Conference rivals. She was 4 for 4 on free throws in the final quarter as Phoenix went on a late run to pull to 86-80 with 42.2 seconds left.
"I wouldn't understand that, (Robinson) is just so strong, why would they want to mess with her a little bit," Silver Stars coach Dan Hughes said facetiously of the 5-foot-9, 125-pound guard. "I think people try to get physical with D-Rob at that point, but she deals with it. The girl is really quick, you've got to get into her, but you have to catch her first."
Diana Taurasi scored 23 points, Charde Houston had 15, Brittney Griner added 11 and Candice Dupree 10 for Phoenix (13-12), which had won three straight since Pennell replaced Corey Gaines on Aug. 8.
"They had dominated the last three games," Hughes said. "I don't think they had played from behind in any of the games, really, so we gave ourselves an opportunity to have a cushion. They made a lot of runs, they are a good team and they're playing well. They shot 50 percent today, it's not like we shut them down."
Phoenix had 44 points in the paint compared to 28 by San Antonio, but the Silver Stars' backcourt dominated their Mercury counterparts.
"Obviously we've got good size," Pennell said. "We're one of the bigger teams in the league and we try to go inside. If we can play through Brittney, we try to, as well as our other post players.
"That should be an advantage for us, and we think it should be an even bigger advantage for us tonight."
Perkins and Robinson led a 14-4 run to close the first quarter, using their quickness to outwork the Mercury. Perkins hit an 18-foot jumper and a 3-pointer and Robinson had a layup after passing to Catherine Kraayeveld for a breakaway layup. Shameka Christon closed the quarter by rattling in a 3-pointer at the buzzer to give San Antonio a 23-13 lead.
"(Robinson is) just evolving into a player this year with the loss of Becky (Hammon) and Sophia (Young) where we have got to play through her," Hughes said. "And playing through her takes different forms. It takes scoring, but it also takes her facility to set up people and that arc that she is working on was really important today."
Taurasi took matters into her own hands in the second quarter after complaining of a lack of calls. She made two 3-pointers and drove for an open layup after nearly flooring Robinson with a shoulder. Taurasi's run pulled Phoenix within 45-33 with 1:23 left in the first half, but the points did little to quell the fiery play.
Robinson and Alexis Hornbuckle were twice warned by officials, "watch it you two," after grabbing and pulling on each other while fighting through a series of picks. Robinson picked up her dribble to call time late in the first half, but Hornbuckle attempted to reach around for a steal, prompting the Silver Stars' point guard to throw an elbow that just missed Hornbuckle's head.
"Phoenix is obviously a very physical team," Robinson said. "They have a lot big players and physical guards. We have to be ready for that when you play them, but something we can handle. We expect that from a lot of teams. We have the quickness and we have the intelligence to fight that."
Robinson hit the court hard in the third quarter after being undercut by Houston on a layup, but quickly rose after rolling over in pain. She was nearly floored again later in the quarter after being struck in the neck on a full sprint when Lynetta Kizer stuck her arm out and nearly clotheslined her. Neither was ruled a flagrant foul despite the protests of the Silver Stars' bench.
"We wanted to go inside out, which is what we try to do," Griner said. "We tried everything. We tried spreading them out and attacking. We had stretches where it worked, but our defense hurt us tonight."
Regular Season Series
SA leads 2-1
AT&T Center
Attendance: 10,906
Capacity: 18,500
Referees:
Denise Brooks
Kurt Walker
Tony Dawkins
2021-22 Western Conference Standings