| | 1 | 2 | 3 | 4 | T |
| --- | --- | --- | --- | --- | --- |
| DEN | 15 | 28 | 30 | 27 | 100 |
| GS | 28 | 25 | 22 | 24 | 99 |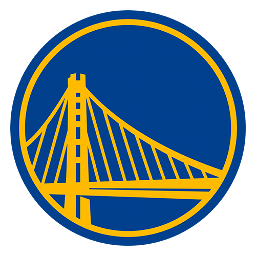 Kenneth Faried's shot at end voids Stephen Curry's go-ahead finger roll
OAKLAND, Calif. -- Kenneth Faried watched the Golden State Warriors celebrate enough victories against the Denver Nuggets during last year's playoffs.
He wouldn't allow his team to witness another Warriors coronation this spring.
Faried hit a turnaround hook shot over Draymond Green with a half-second remaining, and the Nuggets made Golden State wait at least one more game to secure a playoff berth with a stunning 100-99 win over the Warriors on Thursday night.
"We showed that we have the fight and will to win," Faried said.
The Warriors wasted a 20-point lead in the first half, but still looked ready to touch off a playoff-clinching party.
Stephen Curry's floater over Faried put the Warriors up 99-98 with 4.7 seconds to play, sending the announced sellout crowd of 19,596 roaring to their feet. But Faried quieted fans moments later, backing down Green in the paint for the winning shot.
Curry's quick 30-footer rimmed off as time expired, and the Warriors missed a chance to celebrate a milestone moment in front of their loyal fans.
"Not how we envisioned the night going," Curry said.
Timofey Mozgov tied a career high with 23 points and grabbed a career-best 29 rebounds, and Faried finished with 18 points and 17 boards to rally the Nuggets. Denver, which had lost six straight on the road, won both games at Golden State this season.
Curry had 24 points, seven rebounds and six assists, and Klay Thompson scored 21 points to highlight an otherwise disappointing performance by the Warriors -- especially down low. The Nuggets outrebounded Golden State 63-38, handing the Warriors another home loss to a non-playoff team this season.
"We've got to be better," Warriors coach Mark Jackson said. "There's no ands, ifs or buts about it. We've got to be better, and we've got to do a better job of taking care of business and closing out possessions and putting teams away. We can't hide from that."
Denver did just enough in the closing moments.
Following a Nuggets miss, Curry raced up court and came off a screen from Green. He drove the lane and floated a go-ahead runner over Faried with 4.7 seconds left that seemingly put the Warriors in the playoffs.
Instead, the Nuggets called timeout and went right after the undersized Green, who has been starting at power forward for the injured David Lee. Faried backed Green down and floated in a hook shot that silenced the blue-and-gold clad crowd for good.
"I'm sure they'll forgive us if we handle our business," Jackson said. "It is definitely not ideal."
The Warriors were trying to clinch a spot in the playoffs in consecutive years for the first time since the 1990-91 and 1991-92 seasons and improve their playoff position. Instead, Golden State (48-30) fell 2 1/2 games behind fifth-place Portland with four games to play, including one at the Trail Blazers on Sunday.
Golden State is one game ahead of Phoenix and Dallas and two in front of Memphis. The Warriors will have another chance to clinch a playoff berth at the Los Angeles Lakers on Friday night.
Denver, which was eliminated in Game 6 of the opening round of the playoffs at Golden State last season, didn't have to watch the Warriors celebrate against them on the same floor again.
With injuries sidelining six Nuggets regulars, the Warriors overwhelmed Denver's decimated team at the start to go ahead by 20 points in the second quarter. But the Nuggets came back behind Mozgov and Faried, trailing Golden State 53-43 at the half and 75-73 through three quarters before holding off the Warriors in the fourth.
A night after beating playoff-bound Houston in Denver, the Nuggets (35-44) are doing their best to make an impact on postseason seeding out West.
"We're out of the playoff race. It would be so easy for them to just let go of the rope right now and just kind of get ready for the offseason," Nuggets coach and Oakland native Brian Shaw said. "They continue to come in and compete every single night, so as a coach I can't ask for anything more than that."
Game notes

The Warriors missed a chance to win 49 games for the first time since winning 50 in the 1993-94 season. ... Lee missed his seventh straight game for the Warriors with a nerve injury in his right hamstring/back. The team said there's no timetable for his return. ... Denver is 2-1 against the Warriors this season. The teams meet in the regular-season finale Wednesday at Denver.
Regular Season Series
DEN leads 2-1
ORACLE Arena
10:30 PM, April 10, 2014
Coverage: TNT
Attendance: 19,596
Capacity: 19,596
Referees:
Zach Zarba
Joe Crawford
J.T. Orr
2022-23 Northwest Standings
2022-23 Pacific Standings