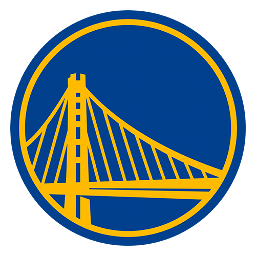 | | 1 | 2 | 3 | 4 | OT | T |
| --- | --- | --- | --- | --- | --- | --- |
| GS | 20 | 26 | 32 | 25 | 18 | 121 |
| OKC | 30 | 27 | 26 | 20 | 15 | 118 |
Steph Curry's game-winning 32-footer caps record night in OT win
OKLAHOMA CITY -- Stephen Curry had no clue how far from the hoop he was. He just knew it was time to shoot.
His 3-pointer from beyond 30 feet with 0.6 seconds left in overtime gave the Golden State Warriors a 121-118 win over the Oklahoma City Thunder on Saturday night.
"Honestly, I don't know exactly where I am, so it's not like I'm calibrating in my head, all right, 38 feet, 37, 36," he said. "Just literally, you've got a sense of -- I've shot the shot plenty of times, you're coming across half court and timing up your dribbles, and you want to shoot before the defense goes in. And that was pretty much my only thought."
Golden State, with the best 58-game record in NBA history at 53-5, became the first team this season to clinch a playoff berth. The Warriors are also the first team since the 1987-88 Los Angeles Lakers to clinch a playoff spot in February.
Curry finished with 46 points, and his winning shot was his 12th 3-pointer, tying the NBA single-game record.
Warriors forward Draymond Green thought Curry had time to get closer to the hoop before the release.
"What was that, 40 feet?" Green asked. "That's absurd."
Golden State guard Klay Thompson is beyond the point of being surprised anymore.
"Everybody in this locker room, we've seen him practice from that range every day," Thompson said. "He's got the greatest range I've ever seen. He makes it look so effortless."
Curry also broke his own NBA record for 3s in a season, leaving the new mark at 288.
"I never would have thought at this point in the season I would be closing in on 300 and all that kind of stuff," he said. "That doesn't make sense to me. I've always tried to push the envelope and keep getting better, but a lot has to go right to get to this point."
Thompson scored 32 points, and Green had 14 assists and 14 rebounds for the Warriors, who won their fifth straight.
Curry, the league's scoring leader and reigning MVP, missed about six minutes of the third quarter with a left ankle injury. He drove to the basket and rolled the ankle before Thunder guard Russell Westbrook stepped on it.
"It was a little nerve-wracking," he said. "I wanted to make sure I was OK. I had to get it retaped. It was painful."
Kevin Durant led the Thunder with 37 points, but he fouled out in the first minute of overtime. Even without him, Oklahoma City was in position to win. The Thunder played one of their better defensive games of the season and shut down the other Warriors players from beyond the 3-point line.
"I thought all of the guys really played their hearts out and did a lot of good things," Oklahoma City coach Billy Donovan said. "It's disappointing to come up short like that, but I think there is a lot we can take from it in terms of what we can do and what we are capable of doing defensively with a tremendous amount of energy and focus."
Westbrook had 26 points and 13 assists, and Serge Ibaka had 15 points and 20 rebounds for the Thunder.
The Warriors won the previous meeting with the Thunder 116-108 at home on Feb. 6. The teams play again Thursday at Golden State.
Oklahoma City led by 12 in the fourth quarter, but the Warriors rallied. Thompson made a 3 from the left corner to cut Oklahoma City's lead to 100-99. It was the first 3 of the game for any Warriors player other than Curry.
Durant responded with a 3-pointer with 14.5 seconds left to put the Thunder up 103-99.
Thompson quickly scored a layup, then the Thunder turned the ball over, and Andre Iguodala was fouled with 0.7 seconds left. Iguodala made both free throws to tie the score at 103 and force the extra period.
STAT LINES
The Thunder lost despite outrebounding the Warriors 62-32.
QUOTABLE
Green, on Curry's mentality before the final shot: "When he pulled up, he looked like, 'Ah, whatever, it's going in,'" Green said.
TIP-INS
Warriors: Curry has made a 3-pointer in an NBA-record 129 straight games. ... C Anderson Varejao played in his third game with the Warriors. The Cleveland Cavaliers traded him to Portland and the Trail Blazers waived him, allowing Golden State to pick him up.
Thunder: Durant has scored 20 or more in 44 straight games. ... Durant was presented with the Western Conference Player of the Month award for January before the game. ... Oklahoma City scored the game's first eight points. ... Durant fouled out for just the fourth time in 621 career regular-season games.
UP NEXT
Thunder: At Sacramento on Monday.
Warriors: Host Atlanta on Tuesday.
Regular Season Series
GS leads 2-0
Paycom Center
8:30 PM, February 27, 2016
Coverage: ABC
Attendance: 18,203
Capacity: 18,203
Referees:
Eric Dalen
Kane Fitzgerald
Scott Foster
2022-23 Pacific Standings
2022-23 Northwest Standings