National Selection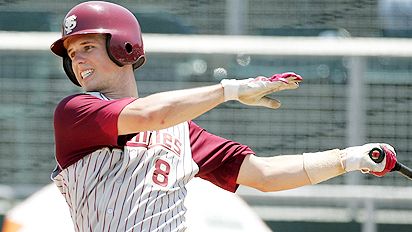 Richard C. Lewis/Getty Images
Buster Posey has batted .464 in 64 games for Florida State this season.
Which team walked away with the best prospects after Day 1 of the draft? The Giants, for one. But they'll have to pay a premium to sign catcher Buster Posey.
Keith Law

•
Rays take Tim Beckham at No. 1
|
Pick-by-pick first-round analysis
•
Law: Best, worst of first round

|
First-day recap: What's next?
More on ESPN.com
Law: Top 75 prospects

High school shortstop Tim Beckham remains the No. 1-ranked player on an updated list of the top 75 prospects in the 2008 MLB draft.
Law: Final first-round projection

In his final first-round projection, Keith Law has Georgia high school shortstop Tim Beckham going No. 1 overall to Tampa Bay.
Neyer: Top 10 No. 1 picks of all time

With A-Rod, Junior and Chipper leading the way, we take a look at the best -- and the worst -- No. 1 picks in the history of the draft.
Crasnick: Deep class at first
This year's draft class has plenty of options at first base.
Law: Trading of draft picks

Explaining the reasons why the trading of picks should be allowed in the baseball draft.
Kurkjian: Special Negro Leagues Player Draft
Prior to baseball's amateur draft, a special draft of surviving Negro Leaguers, who will represent every player who did not have the opportunity to play in the major leagues, will take place.
Law: Draft buzz

The latest on Aaron Hicks, Anthony Gose and more.
Crasnick: Bad company
Chase Utley's rise from the ruins of the 2000 first round proves that surprises can be found in even the worst drafts.
Law: High school pitching crop thin

Ethan Martin might be the first high school pitcher taken in this draft.
Law: Hosmer's asking price steep

Florida high school first baseman Eric Hosmer, a top-five prospect, reportedly will demand a $7 million signing bonus.
Law: Centering on L.J. Hoes

D.C.-area prospect L.J. Hoes is a potential second-rounder who might not have the power to project well as a corner outfielder.
Law: Lefties DeVall, Ross impress

It's not often two top prospects square off in a pitching duel, but southpaws Robbie Ross and Brett DeVall did in high school.
Law: ASU has first-round hitters

The Sun Devils could have three hitters drafted in the top 40-50 picks, including Brett Wallace and Petey Paramore.
Look Back: 2007 draft

Price Is Right
The Rays made Vanderbilt left-hander David Price the draft's No. 1 overall pick.
•
2007 Draft Coverage
Look Back: 2006 draft

Top Gun
The Royals selected former Tennessee ace Luke Hochevar with the first overall pick.
•
2006 Draft Coverage