Alberto Contador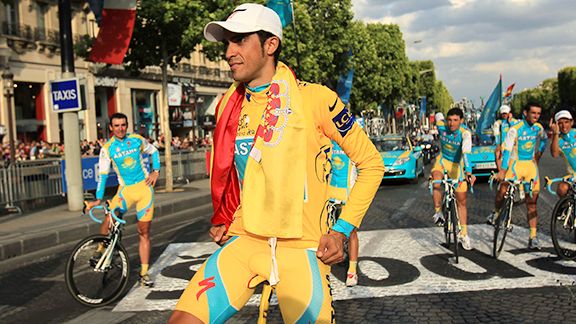 Alberto Contador is a Spanish professional cyclist who has won the Tour de France three times. Contador won the Tour de France in 2007 (with the Discovery Channel team), 2009 and 2010 (with the Astana team). He also has won the 2008 Giro d'Italia and the 2008 Vuelta a Espana (both with Astana).
Contador was the fifth cyclist in history -- and the first Spaniard -- to win all three Grand Tours. He is considered by many one of the best climbing specialists in the world.
In 2012, Contador was stripped of his 2010 Tour de France title and banned for two years after the Court of Arbitration for Sport found him guilty of doping.
Alberto Contador Velasco was born in Pinto, in Madrid, on Dec. 6, 1982. He played several sports as a child but discovered cycling at 14 when his older brother started racing.
By the following year, Contador had begun racing at the amateur level around Spain, and by 16, he had signed with a youth professional team. He was immediately noted as a great climber and began earning his first victories by 2000, usually on mountain classifications on the Spanish amateur circle. The following year, he won the U-23 Spanish time trial title.
He turned professional in 2003 with the same team that signed him as a youth, ONCE-Eroski, winning his first race as a professional in 2005 at the Setmana Catalana. He was dropped by ONCE-Eroski after implications in a doping case in 2006 and was without a team for several months, though he signed with Discovery Channel in January 2007.
Shortly after he earned his first major professional victory, winning the 2007 Paris-Nice. He followed that win with a surprising win in the 2007 Tour de France, winning the competition mostly on the climbing stages and by one of the closest margins ever recorded.
Contador moved to the Astana team in 2008 after Discovery Channel left racing, though the start was less than ideal. The Amaury Sport Organization announced in February that Astana would not be invited to any of its events -- including the Tour de France -- due to doping allegations from years prior. Contador did manage to win the Giro d'Italia, Vuelta a Espana and several other races in that season, though.
In 2009, Contador was able to race the Tour de France again, and he earned his second victory (though it was not without controversy, Lance Armstrong's return to Astana creating alleged team tension throughout the season). He repeated his victory once again in 2010, though it again was tinged with controversy. Contador breached typical Tour protocol when he did not stop when leader Andy Schleck's chain fell off. Though he later apologized for his behavior, the public reaction was mixed -- some critics cursing his etiquette, others praising his gamesmanship.
Alberto Contador has faced doping allegations more than once in his career, many of the allegations connected to the Operacion Puerto case that occurred early in his career. He and his teammates were barred from competing temporarily, though all charges later were cleared by both the courts and the UCI.
2010
The most serious allegations against Contador arose in September 2010, when he revealed that he failed a drug test at the 2010 Tour de France. The World Anti-Doping Agency lab in Germany found a "very small concentration" of a banned substance, clenbuterol, in his urine sample at the Tour. The UCI issued a statement that the level of the substance in his blood was 400 times less than what the anti-doping agencies must be able to detect and that they would further investigate the result.
Contador blamed food contamination from a piece of bad meat that had been brought from Spain during the team's rest day. Experts said Contador's reasoning makes sense, as clenbuterol is given to livestock to increase their growth rate.
Contador was provisionally suspended after news of the test became public, though he had already ended his 2010 season. Spanish cycling authorities initially proposed a one-year ban for Contador, but overturned that ruling three weeks later, clearing Contador of doping and allowing him to retain his 2010 Tour de France title.
The International Cycling Union is appealed the acquittal, and in 2012, Contador was banned for two years and stripped of his 2010 Tour de France title. The suspension was backdated, allowing Contador to begin racing again on August 6, 2012.
TOP STORY
Alberto Contador stripped of Tour title
Alberto Contador was stripped of his 2010 Tour de France title Monday and banned for two years after sport's highest court found the Spanish cyclist guilty of doping. Story »
QUICK FACTS
Birth date: Dec. 6, 1982
Birthplace: Madrid, Spain
Height: 5-foot-9½
Weight: 140 lbs.
Team: SBS
Tour de France wins: 2007, 2009, 2010
TOUR DE FRANCE RESULTS
| Year | Stage Wins | Overall Finish |
| --- | --- | --- |
| 2005 | 0 | 13th |
| 2007 | 1 | 1st |
| 2009 | 3 | 1st |
| 2010 | 0 | 1st* |