Lance Armstrong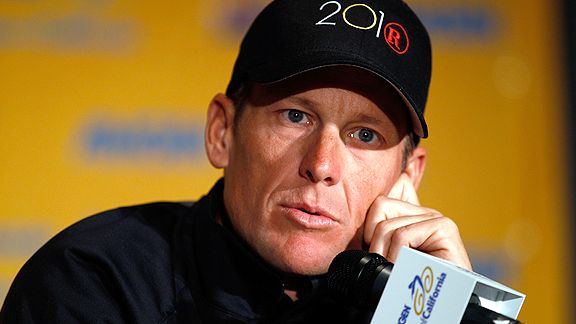 Lance Armstrong is a former professional cyclist who raced professionally from 1992 to 2011. Armstrong won seven consecutive Tour de France titles from 1999 to 2005. However, in 2012 those titles were stripped by USADA and Armstrong was banned for life from professional cycling following a USADA investigation that found that he had used performance-enhancing drugs during his cycling career. The UCI agreed with USADA's decision to vacate Armstrong's titles and ban him for life.
Armstrong's cycling career was interrupted in 1996 when he was diagnosed with Stage 3 testicular cancer. As a result of his diagnosis, Armstrong formed the Lance Armstrong Foundation (now known as Livestrong) in 1997 to support people affected by cancer and to raise awareness. He served as the chairman of the foundation, which has raised millions of dollars, until October 2012.
Lance Edward Gunderson was born on Sept. 18, 1971, in Plano, Texas, to Linda Mooneyham and Eddie Gunderson. Before Lance was 2, the couple split up. Mooneyham married Terry Armstrong, who later adopted her son. The Armstrongs divorced when Lance was 14.
As a child, Armstrong was an active runner and swimmer. In elementary school, Armstrong won a distance running race. At age 12, Armstrong competed in his first swim meet, finishing fourth in the Texas state 1,500-meter freestyle as a member of the City of Plano Swim Club. Armstrong later competed in triathlons as a teenager.
In high school, Armstrong started focusing on cycling. He was a member of Hoyt's Richardson Bike Mart team and trained with 20-something riders at age 16. Armstrong competed in his first international race at the 1990 junior world cycling championships in Moscow, finishing 11th. The next year, Armstrong won the United States amateur championship.
Armstrong represented the United States at the 1992 Summer Olympics in Barcelona, finishing 14th. Because of his strong performance at age 19, Armstrong earned a professional contract with Motorola. Armstrong's first race as a professional was in 1992 at the Clasica de San Sebastian in Spain, where he finished last. Armstrong earned his first victory on the Motorola team at the Trophee Laigueglia in Italy, defeating Moreno Argentin in the process.
In summer 1993, Armstrong won the Thrift Drug Triple Crown of Cycling in Philadelphia, Pittsburgh and West Virginia. Later that summer, Armstrong won his first stage in the Tour de France before eventually pulling out of the competition after he fell to 62nd place.
Armstrong competed in the World Road Race Championship in Oslo, Norway, in August 1993 and won the one-day, 161-mile race. Armstrong, then 21, became the youngest rider and just the second American to win.
In 1994, Armstrong finished runner-up at the Tour DuPont -- a 12-day, 1,225-mile race that he won in 1995 and 1996. Armstrong eventually was on top of the USA Cycling rankings.
Cancer
At age 25, Armstrong was diagnosed with Stage 3 testicular cancer on Oct. 2, 1996. Before being diagnosed, Armstrong was suffering from exhaustion, dizziness and a testicle so swollen that he could hardly sit on his bicycle. On Oct. 3, Armstrong underwent surgery to remove the testicle, but doctors found the cancer also had spread to his lungs, abdomen and brain. Armstrong's doctors told him he had a 40 percent chance of surviving.
Armstrong was treated at the Indiana University Medical Center in Indianapolis, where he received an alternative-medicine regime to preserve his lungs for cycling. Toward the end of October 1996, Armstrong had two lesions removed from his brain. Armstrong's last chemotherapy treatment was on Dec. 13, 1996. A month later, Armstrong's blood tests came back negative, and his cancer was in complete remission.
Return to cycling
Armstrong announced he would return to cycling in September 1997, less than a year after receiving his last chemotherapy treatment. Without a team because Cofidis terminated his $600,000 annual contract, Armstrong signed with the United States Postal Service for $200,000 a year. After shaking off the rust, Armstrong won several events in 1998, including the Tour of Luxembourg, the Cascade Classic, the Spring 56K Criterium and the Rheinland-Pfalz Rundfahrt.
Armstrong competed in his first Tour de France since returning from cancer in 1999. He dominated from the start of the race, winning the 8-kilometer time trial. Armstrong won by 7 minutes, 37 seconds over Alex Zulle of Switzerland. He became just the second American to win the Tour de France, joining Greg LeMond, who won in 1986, 1989 and 1990 Tours with French teams.
Critics questioned Armstrong's victory because two of the biggest names in cycling (Jan Ullrich and Marco Pantani) didn't compete in the 1999 Tour de France.
Ullrich and Pantani returned in 2000 at the Tour de France, and Armstrong was able to hold both cyclists off. He won by 6 minutes, 2 seconds over Ullrich despite winning just one stage on the Tour.
While riding in southern France, Armstrong was hit by a car and suffered bruises. His injuries weren't enough to keep him from cycling in the 2000 Summer Olympics in Sydney, though, and he won the bronze medal in the individual time trial.
In 2001, Armstrong once again proved to be the king of the mountains, gaining a five-minute lead after the mountain stages and beating Ullrich by 6 minutes, 44 seconds for his third consecutive Tour victory.
In 2002, Ullrich, Armstrong's rival, was suspended for drug usage. With Ullrich out, Armstrong once again took control in the mountain stages and defeated Joseba Beloki by seven minutes.
Ullrich returned in 2003, and the two cyclists had their most competitive Tour de France battle yet, with Armstrong winning by a mere 61 seconds.
Armstrong won five stages in the 2004 Tour de France and was the first cyclist since 1948 to win three consecutive mountain stages (Nos. 15, 16, 17). He finished 6 minutes, 19 seconds ahead of Andreas Kloden and 8 minutes, 50 seconds ahead of Ullrich.
In 2005, Armstrong's Discovery Channel team won the team time trial en route to his seventh consecutive Tour de France victory. Armstrong finished 4 minutes, 40 seconds ahead of Ivan Basso.
Armstrong announced his retirement from professional cycling on July 24, 2005.
Second comeback
After three years away from the sport, Armstrong announced on Sept. 9, 2008, that he would return for the 2009 Tour de France. Before the Tour, Armstrong competed in the Tour Down Under in Adelaide, South Australia, finishing 29th.
While in Sacramento, Calif., for the Amgen Tour, Armstrong's Trek bicycle was stolen on Feb. 14, 2009. An anonymous citizen returned the bike four days later. During the 2009 Vuelta a Castilla y León, Armstrong crashed in the first stage and broke his collarbone. Armstrong underwent surgery to repair his collarbone and returned from injury on April 29, 2009, at the Tour of the Gila in New Mexico. As a member of Astana, Armstrong competed in his first Tour de France in four years and finished in third place, 5 minutes, 24 seconds behind winner and teammate Alberto Contador.
Armstrong joined Team RadioShack in 2010 with plans of competing in the Tour de France. He made his season debut at the 2010 Tour Down Under and finished 25th. He was sidelined from a series of races in Europe thanks to a bout of gastroenteritis. Before the 2010 Tour de France, Armstrong announced via Twitter that this would be the final time he would compete.
Because of a serious crash during Stage 8, Armstrong was knocked out of serious contention and finished in 23rd place, nearly 40 minutes behind Contador, who won.
Armstrong's final competitive race came in the 2011 Tour Down Under in Australia, where he finished 65th. Three weeks after that race, Armstrong again announced his retirement.
During his cycling career, Armstrong repeatedly faced allegations of performance-enhancing drug use. He denied all allegations during his career, until coming clean in an interview with Oprah Winfrey in January 2013, after he'd been banned for life from cycling and stripped of his Tour de France titles by USADA and UCI.
In 2006, during a legal dispute over a $5 million bonus Armstrong said he was owed, the cyclist was accused of using performance-enhancing drugs a decade earlier. In their sworn depositions, Frankie Andreu, Armstrong's former teammate, and his fiancée, Betsy, said they heard Armstrong tell two doctors that he took growth hormone, cortisone, EPO, steroids and testosterone in 1996. Armstrong swore under oath that the alleged incident at Indiana University Medical Center with the doctors didn't happen.
In April 2010, Floyd Landis emailed cycling officials accusing Armstrong of doping in 2002 and 2003. The emails went into great detail describing Armstrong allegedly doping while the two were teammates on the United States Postal Service team. Other cyclists whom Landis accused along with Armstrong were George Hincapie, Levi Leipheimer and David Zabriskie.
Landis told ESPN.com's Bonnie D. Ford that Armstrong and coach Johan Bruyneel paid an International Cycling Union official to cover up a test in 2002 after Armstrong allegedly tested positive for the blood-boosting drug EPO. According to Armstrong, Landis "has no proof" regarding the allegations. Members of the United States Postal Service team have tested positive in the past for banned substances. Tyler Hamilton tested positive in 2004 for blood doping, and Roberto Heras tested positive in 2005.
In 2011, Hamilton told CBS newsmagazine "60 Minutes" that he saw Armstrong use performance-enhancing drugs, including the banned blood-booster erythropoietin (EPO), in 1999 and two subsequent seasons to help prepare for the Tour de France. Armstrong's attorney, Mark Fabiani, issued a statement saying Hamilton's allegations were false, adding, "Lance Armstrong is the most tested athlete in the history of sports: He has passed nearly 500 tests over 20 years of competition."
The federal investigation into the doping allegations against Armstrong was closed in February 2012. No charges were filed against him. However in June 2012, the U.S. Anti-Doping Agency brought charges against Armstrong, threatening to take away his seven Tour de France titles. Armstrong filed a federal appeal to have the charges dropped, but lost. On August 23, 2012, Armstrong announced he was dropping his fight against USADA. The agency announced it would ban Armstrong from cycling for life and move to strip him of his seven Tour de France titles, eventually releasing a 1,000-page report detailing Armstrong's involvement in what it called "the most sophisticated doping conspiracy in sporting history."
On Oct. 22, 2012, the UCI supported USADA's decision and officially stripped Armstrong of his titles and banned him for life.
Armstrong married Kristin Richard on May 1, 1998. Richard was an account executive for an advertising and public relations firm, and the two met when Armstrong launched his cancer foundation and the Ride for the Roses event. The couple have three children: Luke and twin daughters Grace and Isabelle. Armstrong and Richard filed for divorce in 2003.
Shortly after, Armstrong dated singer Sheryl Crow. The two announced their engagement in September 2005, but split up in February 2006. Armstrong then dated fashion designer Tory Burch and actress Kate Hudson before meeting Anna Hansen while doing charity work in July 2008. Despite undergoing treatment for testicular cancer, Armstrong was able to naturally impregnate Hansen, and the couple announced they were having their first child together in December 2008. Maxwell Edward "Max" Armstrong was born on June 4, 2009, in Aspen, Colo. Hansen gave birth to their second child, Olivia Marie, on Oct. 18, 2010.
Outside cycling
In 1997, Lance Armstrong founded the Lance Armstrong Foundation (now known as Livestrong), which provides support for people battling cancer. As a result of his foundation, Armstrong, along with Nike and ad agency Wieden+Kennedy, created "LiveStrong" bracelets in 2004. The bracelet was part of the "Wear Yellow LiveStrong" campaign, raising more than $25 million.
In addition to the foundation, Armstrong and a cast of famous athletes, including Muhammad Ali and Cal Ripken Jr., founded Athletes For Hope in 2006. The nonprofit organization was formed to help teach athletes about philanthropy and assist with starting charitable causes.
During his retirement, Armstrong ran in the 2006 New York City Marathon, finishing 856th with a time of 2:59:36. He helped raise $600,000 for his LiveStrong campaign in the process. Armstrong improved on his time in the 2007 New York Marathon, running it in 2:46:43 and finishing 232nd.
Awards
Lance Armstrong was named the ABC Wide World of Sports Athlete of the Year in 1999. In 2002, Sports Illustrated named him Sportsman of the Year. From 2002 to 2005, Armstrong was selected The Associated Press Male Athlete of the Year. Armstrong also won the ESPY Award for Best Male Athlete from 2003 to 2006.
TOP STORY
Oprah: Armstrong Confesses
Oprah Winfrey confirmed Tuesday that Lance Armstrong came clean about his use of performance-enhancing drugs during their interview. Story »
LANCE ARMSTRONG QUICK FACTS
Birth date: Sept. 18, 1971
Birthplace: Dallas Texas
Height: 5-foot-9˝
Weight: 165 lbs.
Professional Teams: Motorola (1992-96), Cofidis (1997), U.S. Postal (1998-2005), Astana (2009), Team RadioShack (2010-11)
Tour de France wins: 7 (1999-2005)
TOUR DE FRANCE RESULTS
| Year | Stage Wins | Overall Finish |
| --- | --- | --- |
| 1993 | 1 | WD |
| 1994 | 0 | WD |
| 1995 | 1 | 36th |
| 1996 | 0 | WD |
| 1999 | 4 | 1st |
| 2000 | 1 | 1st |
| 2001 | 4 | 1st |
| 2002 | 4 | 1st |
| 2003 | 2 | 1st |
| 2004 | 6 | 1st |
| 2005 | 2 | 1st |
| 2009 | 1 | 3rd |
| 2010 | 0 | 23rd |