First Class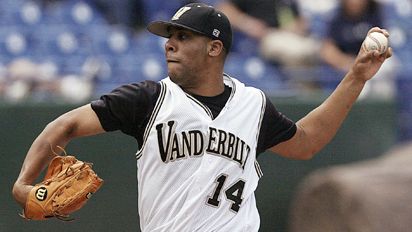 AP Photo/Todd J. Van Emst
Vandy's David Price had a Division I-leading 194 strikeouts this year.
As expected, the Devil Rays took David Price at No. 1 in Thursday's draft. The Royals selected a high school shortstop, and the Cubs got the player they had wanted all along.
First-round analysis

•
Keith Law:
Review of first five rounds
|
Best, worst of first round

•
Price to Rays
|
Picks (round)
:
Supplemental
|
2nd
|
3rd
|
4th
|
5th
More on ESPN.com
Granderson: Remembering draft day
Curtis Granderson wasn't sure where he'd be drafted in 2002, until he received a call from the Tigers.
Law: Flashback to the 2002 draft

While nearly half of the 2002 first-rounders could be labeled busts, the draft did yield Prince Fielder, Nick Swisher and many other talents.
Olney: Price right for Rays

The Devil Rays are in serious need of pitching depth, which is why they should take Vanderbilt's David Price.
Law: Four teams will dominate draft early
The Padres, Blue Jays, Rangers and Giants were nicely compensated with a combined 27 picks in the first two rounds.
Law: Draft high school or college players? The answer is both
Some franchises prefer high school players. Some like college players. So, what's the best strategy? Draft both.
Law: What you need to know about this year's MLB draft
This year's draft features top-shelf high school pitchers, an unusually large sandwich round and some important rule changes.
Draft Info
Draft Tracker
First-Round Draft Order
PICK
TEAM
PLAYER
POS
1.
Devil Rays
David Price
Vanderbilt
LHP
2.
Royals
Mike Moustakas
Chatsworth (Calif.) HS
SS
3.
Cubs
Josh Vitters
Cypress (Calif.) HS
3B
4.
Pirates
Daniel Moskos
Clemson
LHP
5.
Orioles
Matt Wieters
Georgia Tech
C
6.
Nationals
Ross Detwiler
Missouri State
LHP
7.
Brewers
Matt LaPorta
Florida
1B
8.
Rockies
Casey Weathers
Vanderbilt
RHP
9.
D-Backs
Jarrod Parker
Norwell HS, Ossian, Ind.
RHP
10.
Giants
Madison Bumgarner
South Caldwell HS,
Hudson, N.C.
LHP
11.
Mariners
Phillippe Aumont
Ecole secondaire du Versant
Gatineau, Quebec
RHP
12.
Marlins
Matt Dominguez
Chatsworth (Calif.) HS
3B
13.
Indians
Beau Mills
Lewis-Clark State
3B
14.
Braves
Jason Heyward
Henry County HS, McDonough, Ga.
CF
15.
Reds
Devin Mesoraco
Punxsutawney (Pa.) HS
C
16.
Blue Jays
Kevin Ahrens
Memorial HS, Houston, Texas
3B
17.
Rangers
Blake Beavan
Irving, Texas
RHP
18.
Cardinals
Peter Kozma
Owasso (Okla.) HS
SS
19.
Phillies
Joe Savery
Rice
LHP
20.
Dodgers
Chris Withrow
Midland Christian HS, Odessa, Texas
RHP
21.
Blue Jays
J.P. Arencibia
Tennessee
C
22.
Giants
Tim Alderson
Horizon HS, Scottsdale, Ariz.
RHP
23.
Padres
Nick Schmidt
Arkansas
LHP
24.
Rangers
Michael Main
Deland (Fla.) HS
RHP
25.
White Sox
Aaron Poreda
University of San Francisco
LHP
26.
Athletics
James Simmons
UC Riverside
RHP
27.
Tigers
Rick Porcello
Seton Hall Prep,
West Orange, N.J.
RHP
28.
Twins
Ben Revere
Lexington (Ky.) Catholic HS
CF
29.
Giants
Wendell Fairley
George County-Lucedale (Miss.) HS
RF
30.
Yankees
Andrew Brackman
N.C. State
RHP
Look Back: 2006 draft
Top Gun
The Royals selected former Tennessee ace Luke Hochevar with the first overall pick.
•
2006 Draft Coverage
Look Back: 2005 draft
Justin Time
Justin Upton one-upped his brother, B.J., going No. 1 overall to the Diamondbacks.
•
2005 Draft Coverage