Commentary
King of the Lanes
In 2015, LeBron James shocks the world with a surprising career change.
Updated:
March 8, 2011, 7:14 PM ET
By
Tom Barbash
| ESPN The Magazine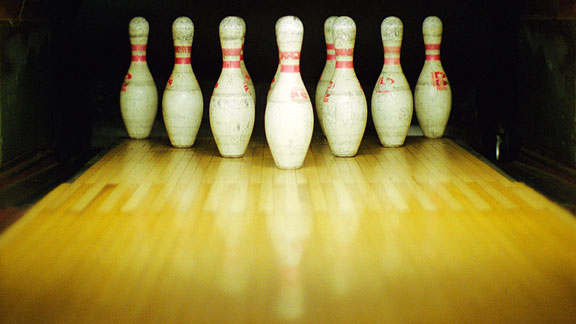 Fuse/Getty Images
This short story appears in the iPad version of ESPN The Magazine's March 7, 2011 Fiction Issue.
NO STORY IN 2015 captivated the imagination of the sports world more than the sudden retirement of LeBron James. The rumors began to spread as soon as the news leaked: Anonymous family members claimed it was a spiritual transformation, while a few talk-show loyalists said he was just tired of the spotlight. He'd lost faith in his teammates, some insisted, and had decided to turn to acting. A few said his plan involved politics.
After a day of this speculation, saying he didn't want a repeat of the drawn-out "Decision" of 2010, James convened a press conference. Standing with teammates from his high school squad at St. Vincent-St. Mary's, his prep coach Keith Dambrot at his side, he made his announcement.
"I'm not going into this lightly," James said. "It's not a rash decision. It's something I've been moving toward for a long while now. It's an exciting time for me, and hopefully for the sport of bowling."
PAT RILEY, President, Miami Heat
I was on the road when I got word. My first thought was, it's got to be a joke. This is just the sort of thing LeBron and Dwyane would cook up. So I called Dwyane and asked him if it was true. He said it was. I waited for my blood pressure to go down and then I called LeBron. He said he'd just wanted to make the switch. He couldn't give everything to basketball right now. His mind was made up.
MARK BAKER, bowling guru
I remember getting the call midway through the championship year. LeBron wanted me to coach him. He'd had lanes put in at his house. He'd studied the game, he'd watched film of Earl Anthony. I figured if nothing else comes of it, I get a free trip to Florida. But from the moment I got there, I could see this guy was serious.
CHRIS BOSH, Forward, Miami Heat
We knew about it -- but it was always something to keep him loose. Everyone has a hobby. But then it got so he was trying to find a bowling alley at every stop on the road. The closest thing I could say is that it was like he had a girlfriend on the side. Basketball was his wife and bowling was his mistress. She was someone new, you know?
KENNY SMITH, analyst, TNT
Chuck was merciless with him. He said LeBron punked Cleveland and now he was punking basketball. It was like your girlfriend dumps you but it isn't for another dude, it's for a chick. Not only is he leaving you, but he disliked you so much he quit your gender.
PAT RILEY
When I look back, the signs were there. Late in the season, after Danny Crawford whistled him for a charge, he bowled the ball back across the court. His form was perfect. And then there were the guys in comfortable slacks waiting for him after games, the photo of Pete Weber on the inside of his locker. You thought it was a put-on, until it wasn't. Look, the truth is there are few things this guy can't do. I think he liked not having to depend on everyone else. And I think he liked being the underdog again, fighting the odds.
SHAQUILLE O'NEAL, Center, Boston Celtics
We went to dinner one time, around then, and all the dude would talk about was bowling. He was obsessed. He was just nerdy about it.
JOHN BURKETT, former major league pitcher, current pro bowler
I talked to LeBron, and I told him what trips you up is the changing oil conditions. The lanes change all the time in the pros, and it means you've got to be ready to make a ball change, or move your feet and play different lines. You need to be versatile. Because the good players are scientists out there. Go talk to Chris Barnes about oil patterns. And then there's the wear on your body. In the PBA you're sometimes playing 42 games over four days. Your hand is mincemeat by the time you're done. Your legs get tired. The guy's in phenomenal shape, obviously, but this isn't a 22-ounce ball. You're throwing something that weighs 16 pounds. Sixteen pounds! He did have definite advantages coming into the sport, though. For one, he was rich enough to hire a great coach.
MARK BAKER
I was hard on him, for sure. He had trouble at first with his timing. We had to teach him how to slide, how not to overthrow it, how to manage his strength and make it an asset. When he hit the spot, though, you'd see just incredible pin action. They're flying everywhere. Once he got his pocket percentage up -- and he did, after a month or so -- I started to think maybe this wasn't such a crazy idea.
TOM CLARK, head of marketing, PBA
We were getting ready for a new season, trying to scrape together what we could in terms of sponsorship, and Mark Baker calls me and tells me LeBron's going to play regionals. It's hard to describe all the things that went through my head. I remember my secretary came in afterward and asked me why I was crying. Every tour stop was sold out by noon the next day.
DAN PATALINO, Cavs Fan and anti-James blogger
We had about 10 of us at Fairview Lanes waiting to pounce on him. Everybody had T-shirts printed that read OUT OF THE BEACH AND INTO THE GUTTER, that kind of stuff. But the dude was sick. He was just hitting strike after strike and knocking down the toughest spares -- the 4-10, the 7-10, the 3-6-9. It was like watching him when he first came up, and you were only starting to see how good he could be. We booed him anyway, obviously, but he didn't care.
KENNY SMITH
The first thing you noticed, when you watched him bowl, was the sound. The strikes sounded different, like a Mark McGwire home run sounds different, or certain guitars or really fancy pianos. The sound just filled the room. It was awesome. I started to worry we might not get him back as quickly as some people hoped.
TOM CLARK
The Indianapolis game was crazy, of course. Suddenly it's on all the social networks that LeBron's bowled strikes on the first six frames. It spread like wildfire. They cut into it on ESPN, on ESPN 3D, on the evening news, on the sports-radio afternoon-drive shows. He'd hit all six strikes in the 1-3 pocket, perfect shots, and in the seventh he flushes the 1-3 pocket again -- but he gets that late kick on the 10 pin. I swear, the world stopped moving while we waited for that thing to drop. But it drops. On the next shot he comes up high, and it looks like he's going to leave something, but he gets lucky and gets a tumbler, and bang he's got the front eight. You felt it happening, by that point. On the ninth he flushed a perfect shot like he was all alone at home. The closest thing I can compare the next three rolls to is shooting free throws. He's got three free throws to make. To someone like him, it's a piece of cake.
MICHAEL WILBON, co-host, PTI
To me it seemed like made-for-TV gimmick. Like The T.O. Show, you know. Fine -- sure -- I'll give him the perfect game. But what happens when he can't make it out of regionals? Who's going to pay to watch the world's tallest bad bowler as he barely breaks 150? My guess was he'd lose interest, that he wouldn't have the patience to get really good. You start out hot, you know? You get some flashy wins, some good frames. But do you maintain it? Do you thrive? What happens when the other guys stop being impressed and start gunning for him?
JOHN FEINSTEIN, author, King of the Lanes: LeBron James's Sojourn Through the Wilds of Professional Bowling
It was definitely interesting to see the effect all this had on the other bowlers. All of a sudden they were at the center of the biggest party in town -- the biggest party in the American sporting scene. Other pro athletes would show up, people like Dwight Howard, Jerome Bettis. LeBron usually turned in early, but for some of the young guys on the tour ... I mean, suddenly there were women around wanting to meet bowlers, wanting to hang out with bowlers. I wouldn't call them groupies, but there was something different in the air.
CHRIS BARNES, top-ranked PBA touring pro
It was a little nuts for a while. Celebrities would drop in on our tournaments. The camera would pan the front row and you'd see Lil Wayne and Justin Beiber.
FRED SCHREYER, Commissioner, PBA
Bowling's a nice little sport. We had a good run in the '70s and '80s. But we never had the run that golf had, or that NASCAR had. It's a third-tier sport. And here we have maybe the best and best-known athlete in the world -- how do you think we'd react? There were estimates that every time LeBron came to a new city, it meant $100,000 in additional revenue for the local economy. These are places like Martinsville, Va., or Peru, Ill., or Beaumont, Texas. I'd say that estimate was low. But the most important thing was getting back the corporate sponsors. Those billboards with the ball coming at you and LeBron with that big smile, like he'd aimed it right at Dan Gilbert.
DAN GILBERT, owner, Cleveland Cavaliers
I'm not going to be discussing that, actually, no. He knows what I think about it.
MARK BAKER
Before he went to the PBA, I brought in some of the best guys to play against him. Chris Barnes, Tommy Jones, Bill O'Neil. I wanted to see how he'd do under pressure. I remember I brought Norm Duke in, one of the best Action bowlers. Norm Duke is a master of pace -- he'll slow it down or speed it up, just to get under your skin. LeBron was furious. He couldn't believe he was getting killed by this little guy in a blue silk shirt, a guy who's 5'5" on a good day. Norm ended up beating him by 30 pins. Afterward, he walked over and he said -- I'm cleaning it up here -- "You may be LeBron frigging James, but I'm Norm frigging Duke, and I'll kick your butt from here 'til Tuesday." I was worried for Norm for about for about 10 seconds, and then we all broke out laughing. Later, though, I felt like I saw something telling that day.
NORM DUKE, PBA touring pro
The bottom line is, he had the one perfect game. We all saw it. A couple of dicey shots, but yeah, he earned the ring. You know how many of those I've got under my belt? Competition-level matches? Sixty-three.
CHRIS BARNES
The oil is always the stumbling block. Because you can't see it. A ball going through the oil is kind of like a skier on a ski slope. You take a little snow and make a track through there, and you make ruts. The more oil gets taken off the lane, the more the lane hooks. And you just don't know. You're skiing blind.
JOHN BURKETT
LeBron, he got a kick out of the names for the oil patterns, I remember. The Cheetah, the Viper, the Chameleon, the Scorpion, the Shark. "Oh no, the Shark!" he'd say, when he stepped up. This is when we were training together, early on. He'd laugh about it. But it was exactly the pattern that he couldn't play.
BOB COSTAS, sportscaster
It was like Michael hitting the curve ball. He got much better at it -- he bowled a 275 on a Scorpion pattern -- but he had some issues with the wrist and the knees. Was he a great bowler? At times. I'd say the closest thing he came too was really Bo Jackson in baseball. There were days he looked spectacular out there, but other days -- well, he was human. And that's a tough thing for a man like LeBron to be.
MARK BAKER
People started to say he was getting that restless look again. You started to hear jokes about him taking up Frisbee, taking up curling. We all know what happened next, of course.
BOB COSTAS
Look, he changed the sport forever. It was a cultural shift, too -- LeBron would say that we were always a bowling country, but he's selling himself short. All those kids in LeBron bowling jerseys, the new lanes in Beijing and Venice Beach and Bed-Stuy -- that doesn't happen without LeBron. Maybe he's a little bit in the wilderness, now, since Dubai. Who knows what he's thinking, at this point? But the fact is, and I stand by this, any given Tuesday he could come back and take the American sports fan on that ride all over again.
Tom Barbash is the author of the novel The Last Good Chance, and the New York Times-bestselling non-fiction book, On Top of the World. His stories and articles have appeared in Mcsweeney's, Tin House, One Story, Narrative, The Believer, Men's Journal, The New York Times and other publications.
ESPN The Magazine: March 7, 2011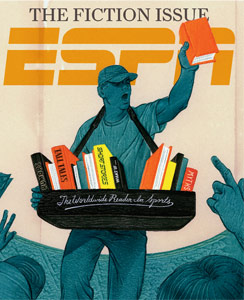 Check out ESPN The Magazine's March 7, 2011 issue below.
Fiction
Features