Pittsburgh 24, Green Bay 20
Big Ben steps up to Rodgers and the Pack in tight Super Bowl win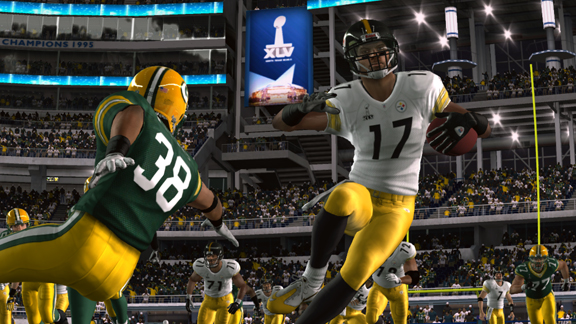 EA Sports
When it comes to predicting the Super Bowl, EA Sports' "Madden" simulation can be so accurate, it's downright eerie. The video game has predicted six of the past seven Super Bowls correctly, coming close to nailing the final score on more than one occasion.
In fact, here is a record of those six "Madden" predictions:
Super Bowl XXXVIII: Patriots 23, Panthers 20 (actual score: Patriots 32, Panthers 29)
Super Bowl XXXIX: Patriots 47, Eagles 31 (actual score: Patriots 24, Eagles 21)
Super Bowl XL: Steelers 24, Seahawks 19 (actual score: Steelers 21, Seahawks 10)
Super Bowl XLI: Colts 38, Bears 27 (actual score: Colts 29, Bears 17)
Super Bowl XLIII: Steelers 28, Cardinals 24 (actual score: Steelers 27, Cardinals 23)
Super Bowl XLIV: Saints 35, Colts 31 (actual score: Saints 31, Colts 17)
As for Super Bowl XLV, EA Sports provides the game's storyline:
"Down 17-13 going into the fourth quarter, Green Bay quarterback Aaron Rodgers hit James Jones in the end zone to put the Pack up by three points with nine minutes left in the game. The defense for both teams kept the score tight throughout most of the fourth quarter, with neither willing to budge. After the two-minute warning, Steelers quarterback Ben Roethlisberger hit Mike Wallace on a slant, and the wide receiver's world-class speed helped him outrace the Packers' defense for a 36-yard touchdown pass, giving Pittsburgh the lead with 1:20 left on the clock. With no timeouts, Rodgers led Green Bay into Pittsburgh territory as the nail-biting contest drew to a close. In a last-second desperation attempt, Rodgers targeted receiver Jordy Nelson, but Steelers safety Ryan Clark picked off the pass, clinching Pittsburgh's Super Bowl XLV victory. Pittsburgh wide receiver Mike Wallace was named Super Bowl MVP with five catches for 111 total yards and a touchdown."
Tune in Sunday to see if "Madden" can make it seven for eight.
ESPN ARCADE
The sequel to our most popular game is here. How's your return?

Run timed routes, beat DB's to the end zone and score.

Hit your receivers, dodge defenders and rack up TDs.