This macaroni and cheese recipe comes recommended to us from The Freddie Coleman Show.

[+] Enlarge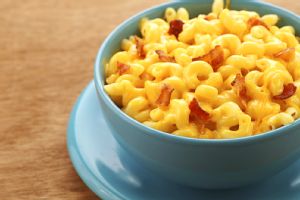 Getty ImagesBoth kids and adults will enjoy this classic dish.
Smoky Macaroni and Cheese
12 oz sliced bacon
8 Tbsp unsalted butter
2/3 cup panko breadcrumbs
1/4 cup whole smoked almonds, finely chopped
1 medium yellow onion, medium dice
1/2 cup all-purpose flour
3/4 tsp smoked paprika
2 Tbsp kosher salt, more as needed
1/2 tsp freshly ground black pepper
5 cups whole milk
1 lb elbow macaroni
8 oz shredded Gouda cheese (about 3 cups)
4 oz shredded smoked Gouda cheese (about 1 1/4 cups)
Steps:
1) Heat oven to 400°F and arrange a rack in the middle. Arrange the bacon on a rimmed baking sheet and bake until browned and crispy, about 20-25 minutes. Remove to a large plate lined with paper towels. When cool enough to handle, crumble into small pieces.
2) Meanwhile, melt 2 Tbsp butter and plate in a medium bowl. Add the panko breadcrumbs and almonds, stirring until evenly combined. Set aside.
3) In a large, heavy-bottomed saucepan or Dutch oven, melt the remaining 6 Tbsp butter over medium heat. Add the onion, season with salt and cook, stirring occasionally, until softened (about 10 minutes). Meanwhile, bring a large pot of heavily salted water to a boil over high heat.
4) Add the flour and paprika to the onions and whisk constantly until the flour is no longer raw-tasting, about 3 minutes. Add the salt and pepper, and stir to combine.
5) While whisking constantly, slowly add the milk to the flour mixture until evenly combined and smooth.
6) Increase the heat to medium high. While whisking constantly, cook until the sauce thickens and coats the back of a spoon, about 3-5 minutes. Remove from heat and set aside.
7) When the water boils, add the pasta and cook according to the package directions or until al dente. Drain in a colander and rinse with cold water, stirring the pasta until cooled and the pieces no longer stick together. Set aside in the colander.
8) Place the sauce over medium heat and stir in both cheeses until melted and smooth. Add the pasta and reserved bacon and continue cooking, stirring occasionally until pasta is heated through and steams (about 2-4 minutes).
9) Transfer to a 13-by-9-inch baking dish and spread into an even layer. Sprinkle evenly with the reserved panko mixture and bake until bubbling and brown on top, about 25-30 minutes. Remove to a wire rack and let cool for 5 minutes before serving. Serves 6-8. Enjoy!
EXPERT PICKS FOR SUPER BOWL XLIX
Greenberg

23-16

Golic

27-21

Cowherd

23-17

Van Pelt

Russillo

-2.5

Le Batard

Tortoise

Stugotz

Hare

Sedano

24-21

Schlereth

27-23

Coleman

Nowkhah

34-27

Kiper

24-20