MUST LISTEN
Beef at the U.S. Open: Inside the Koepka/DeChambeau Feud
The U.S. Open tees off this week, with all eyes on the simmering feud between Bryson DeChambeau and Brooks Koepka. Michael Collins, ESPN analyst and host of Americas Caddie on ESPN+, joins the show from Torrey Pines to discuss the origins of this rivalry, why the bad blood between these two golf stars has continued, and whether or not all the drama is good for the sport. Plus, how Collins went from standup comedy stages to the links.
Play | Download | Apple Podcasts | RSS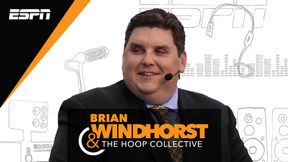 2021 Playoffs Emergency Pod: Durant's Incredible Game 5
Zach Lowe and Brian Windhorst react to Kevin Durant's indescribable Game 5 performance against the Milwaukee Bucks.
Play | Download | Apple Podcasts | RSS
MOST POPULAR
On this weeks episode of Chiney Ogwumikes podcast, she is joined by former NBA All-Star Baron Davis to discuss the young stars taking over the league, including Trae Young, Devin Booker, Donovan Mitchell and Nikola Jokic. They also look back on Stephen Currys imitation of Davis iconic celebration, as well as the time Davis tried to dunk on Shaq.

Bomani Jones and comedian Roy Wood Jr. attempt to digest the news of a positive COVID test for Suns guard Chris Paul and Clippers forward Kawhi Leonard being held out due to an unspecified knee injury (1:30). Plus, the guys react to Juneteenth becoming a federal holiday (21:26).

Buster gives his thoughts on Tyler Glasnows press conference about abruptly stopping using foreign substances for a grip on the baseball and blaming his injury on the cold stop. Then, David Schoenfield and Buster discuss the lack of productive dialogue between MLB and the MLBPA directly resulting in the mid-season policy change on foreign substance enforcement, why Trevor Bauer is putting too much blame on MLB, if we should call foreign substance-using pitchers cheaters, the impact of Glasnows injury on the AL East, and White Sox losing Nick Madrigal for the season.
Welcome back to First Take, Her Take! Hosts Charly, Kimberley, and Elle really nail the transitions in this episode! The ladies talk everything from getting back together with your ex to who might win it all in this year's NBA Championship!

Adam starts off this week's episode with some news around the league; including Le'Veon Bell's recent comments directed towards Andy Reid. Then, he is joined by former NFL TE Greg Olsen who details the journey of his son, TJ, receiving a heart transplant earlier this month. Lastly, Adam closes the show with a few notes ahead of Father's Day!
FIND YOUR FAVORITE PODCAST
FOLLOW US ON TWITTER

Get the latest updates on Twitter. Follow us.