July, 26, 2013
07/26/13
6:26
PM ET
TALLADEGA, Ala. -- Part of NASCAR's weekly prerace routine is to trot the day's visiting celebrities through the infield media center to answer a few questions. Exactly who stops by is typically tied to the market and track the series is visiting. When racing in Fontana, California, Hollywood celebs visit. When racing in Michigan, auto execs stop by.
At Talladega Superspeedway, as it is with any dot on the map of Alabama, it's all about college football.
"Man, I am so excited to be here, I can hardly stand it," Ole Miss football coach Hugh Freeze said excitedly, sharing the Sunday morning stage with NASCAR Sprint Cup racer and hard-core Rebels supporter Ricky Stenhouse Jr. "I have been a NASCAR fan for so long and it feels great to be at such a legendary racetrack."
OK, understand something here. All those celebrities who come to the track? They all say that they are really excited to be here and that they are big race fans. But they aren't. They say they love Danica and Dale Earnhardt Jr., they drive the pace car or shout, "Drivers start your engines!" and then by lap 50 they are gone. Poof.
Hugh Freeze is not one of those people.
[+] Enlarge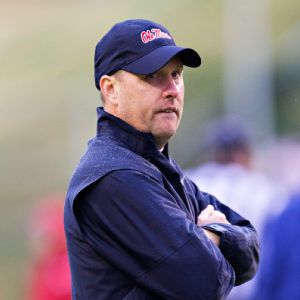 Wesley Hitt/Getty ImagesOle Miss football coach Hugh Freeze isn't just a NASCAR fan, he's a huge NASCAR fan.
"As far back as I can remember, I have taped every race," admitted the 45-year-old Oxford native, who says he's been a NASCAR fan since the early 1990s, when Stenhouse was still in preschool. "My family will attest that when I get home on Sunday night I go to watching it."
Freeze, like most fans who discovered NASCAR in the '90s, became a Jeff Gordon fan and also fell for Dale Earnhardt Jr. He still supports them, but they now rank behind Stenhouse, who visits Ole Miss football practice occasionally and is on the Vaught-Hemingway sidelines whenever he can be, and Patrick, who's Stenhouse's girlfriend.
The coach is such a fan he has worked NASCAR lingo into his playbook. His fast-paced offense has different sets of gears, the fastest of which is labeled "Talladega."
"I've used that all the way back to high school," he explained. "Our kids have bought into it. I can't tell you the number of times our players, particularly the quarterbacks, come to the sideline and say, 'Coach, let's go some Dega, man. Let's go some Talladega and speed this thing up and make it more exciting.' I think that is a great analogy for our kids because this place is one of the most exciting tracks and events in all of sport."
For Sunday's Geico 500, Freeze was charged with pacing that excitement, wheeling the car that leads the 43-car field around the 2.66-mile speedway with 33-degree, six-story banking. But before slipping behind the wheel of his Ford Mustang, he had to walk across the stage to be introduced in front of thousands of rambunctious race fans ... right smack in the middle of the state of Alabama.
"I suspect that there's going to be some boos," he accurately predicted, laughing. "But I'm kind of used to that."
In recent years NASCAR teams have run paint schemes designed to win the favor of the Yellowhammer State residents. Michael Waltrip has run Alabama Crimson Tide national championship paint jobs. Jamie McMurray won at Talladega in October 2013 in an Auburn Tigers scheme. Both received plenty of cheers, but an almost equal share of jeers.
Almost nothing on Planet Earth has the ability to unify the bitterly divided hemispheres of Roll Tide and War Eagle. The Ole Miss Rebels are in that very small group, especially since Freeze arrived in 2012. He has hauled in five-star recruiting classes.
That year they defeated Auburn and last fall Ole Miss upset eventual College Football Playoff participant Alabama, ranked as high as third in the nation.
"In this state, I'm used to getting booed quite loudly," Freeze said.
Then he was interrupted by Stenhouse: "That means you're doing things right."
July, 12, 2013
07/12/13
3:03
PM ET
Morgan Shepherd was grinning. It was a big ol' face-splitting grin that harked back to 1993. Or 1983. Or 1973. Impressively, that face was pretty much devoid of any wrinkles, save for some signature crow's feet around the eyes. Not bad for a 71-year-old.
On Sunday, Shepherd will make his 515th career Cup series start and his first since 2006. As soon as the green flag is waved, he will set the record for oldest driver to race at NASCAR's highest level, breaking a 26-year-old record set by Jim Fitzgerald, who was 65 when he raced at the since-razed Riverside International Raceway.
"Aw, that's not no big deal," Shepherd said about the record. "My life is about encouragement to people, and this is for the race fans that help keep us here, that support us. Cause I couldn't be racing without it. I don't operate on sponsorship. I operate on friendship, and that is the reason I'm here."
He's made plenty of friends, many of whom were lined up to shake his hand and welcome him back as the crew wrenched away on the No. 52 Toyota Camry. Ken Schrader, 58, relished the opportunity to stop by and, for once, get to call someone "old man."
No, Shepherd is not going to earn his fifth career win. He likely won't even make it to the first round of pit stops. The man who once won races for Hall of Famers Bud Moore and the Wood Brothers will be driving for poor-but-proud Brian Keselowski Motorsports (the older brother of defending Sprint Cup champion Brad).
[+] Enlarge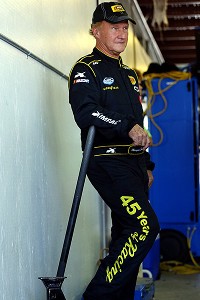 Tom Pennington/Getty ImagesMorgan Shepherd, 71, is ready to race Sunday in the Sprint Cup Series Camping World RV Sales 301 at New Hampshire Motor Speedway.
But winning isn't really the goal. His effort is bringing attention to SupportMilitary.org, a not-for-profit gateway that gives military personnel and families easy access to support organizations. The car also features a decal dedicating Shepherd's weekend to the lives of the 19 firefighters killed fighting Arizona wildfires one week ago.
Shepherd made his first Sprint Cup Series start before it was even the Winston Cup Series. Heck, it wasn't any kind of Cup. It was still the NASCAR Grand National Series.
That was June 20, 1970, at the Hickory Motor Speedway. Richard Nixon was in the White House. Mark Martin, typically the oldest driver in the Cup garage these days, was 11.
Shepherd, 28, finished 19th of 22 cars in a 276-lap race won by eventual series champ Bobby Isaac. Like most of the men in the field that day, Isaac is long since gone. So is the way Shepherd used to race.
"In 1970, I could go to a Chevrolet place and buy an engine for $735," he said. "Tires was $25 apiece, and I could go out and win races that paid $1,000. I could make a lot of money then. Now these engines, they lease them for $70,000, some of them $100,000 or whatever."
He pointed to a nearby stack of tires and continued: "In 1969 [in late-model racing], I won 21 out of 29 races. The left-front tire was on the car all year long. I changed the left-rear one time. The right side twice. So yeah, there's a little bit of difference now."
I motioned toward the end of his perfectly pressed black slacks, calling attention to a pair of well-shined, red-dyed cowhide boots. He said they were at least 20 years old. That's right. His footwear is likely older than fellow Cup series racer Joey Logano.
I asked him if he would be wearing his roller skates on Sunday. For years, it was a staple of the prerace show at the Martinsville Speedway for Shepherd to glide through a roller routine to Mel McDaniel's "Baby's Got Her Blue Jeans On" on the frontstretch.
"No, and I'm a little disappointed about not having my skates," he said. "This deal came together so fast I jumped on a plane and flew up and we didn't get a chance to get them loaded on the truck."
So what's the lesson in all this? What should other 70-somethings take away from a grandpa trading paint with a field of 42 other drivers who largely weren't born when he made his first series start?
"Get your hind ends off the couch and do something," he said. "Make a difference in the world. That is one of our deals. We have a charity that has been going on for 27 years where we help handicapped people. If you are healthy, you need to get up and help somebody else. That is what my life is about."
Shepherd paused, started to walk away and then turned back.
"Purpose and passion," he said. "This is passion. You need to find your purpose and do something about it."
May, 17, 2013
05/17/13
9:34
AM ET
On Thursday afternoon, when the press release from the Lincoln County, N.C., Sheriff's Department hit my inbox, I was devastated.
Dick Trickle, one of truest throwback racers of all time, was dead. Dick was a great guy and a great racer, a Midwestern legend who reportedly won more than 1,000 short-track races.
He was also a great sport, even when it came to his name, which was made (in)famous by Keith Olbermann and Dan Patrick during the mid-1990's "Big Show" days of the 11 p.m. Sunday night "SportsCenter." One of the last conversations I had with Trickle was about that very topic.
"I wasn't real damn happy about it at first," he admitted in his patented box-of-nails voice.
But then he came to realize that it also had given him a level of national notoriety that an old short-track racer from Wisconsin could have never achieved on his own.
"It kept me racing for a while longer. And yeah, it was kind of funny as s---," he said
Those kinds of conversations are why, even as heartbreaking as the story of his apparent suicide is, I still couldn't help but spend some time Thursday evening laughing. A lot of Trickle stories came to mind, but here are the three I have told the most before and will tell the most again.
Hickory Speedway, 1997
Perhaps the greatest, most genuine Victory Lane celebration I've ever witnessed.
Trickle made his NASCAR Cup Series debut before it was the Cup Series, qualifying for the 1970 Daytona 500, the fourth race of NASCAR's Grand National schedule that season. Over the next 27 years he started nearly 300 races across NASCAR's top two divisions, with nary a win to show for it.
Then, on Saturday, March 29, 1997, he rooted his way around defending series champion Randy LaJoie in the closing laps to win the Galaxy Foods 300, a NASCAR Busch Series event at the crusty old Hickory Motor Speedway. He was 54 years old.
I will never forget him climbing from his Dura Lube Chevy in the makeshift Victory Lane with a lit cigarette between his fingers. You see, he was the last NASCAR racer to keep a pack of cigarettes in the cockpit. During caution periods he'd light up, burn one down and go back to racing. He chased that nicotine with what he always estimated as around 40 cups of coffee. Per day.
With photographers snapping photos, he took a drag and matter-of-factly asked the race officials, adorned in Busch beer logos, "I get free beer for winning this thing, right?"
Later that evening, after the fans were long gone and we were packing up our TV gear, he walked by us to his waiting pickup, a free Winston cigarette hanging on his lip and carrying a case of Busch tallboys on each shoulder.
Talladega Superspeedway, 2000
On the morning of what would wind up being his 20th and final Cup Series start at Talladega, Trickle was asked to meet with the track safety crew prior to the race. Having a driver chat with the emergency personnel was a longtime standard operating procedure, especially at the superspeedways.
This was the first -- and only -- time I've ever sat in on one of those meetings. Me being there was a total accident. It was hot as forty hells so I'd ducked into the Goodyear building for a little shade. As I walked in, one of the safety workers asked Trickle how he preferred to be approached and handled should he be one of the drivers caught up in the inevitable multicar crash known as the Big One.
"All you need to do is bring me a cigarette and a cup of coffee, " he said, holding up both. "Then you can go check on the other guys."
I've never seen so many firemen cry and fall all over the floor before or since.
Darlington Raceway, 2000
Later that year, I was getting set to interview Trickle at Darlington, where he'd won a Busch Series event in 1998. He was in a cranky mood. Looking back I think he sensed that the end of his NASCAR career was coming soon, which it was. Just before I asked the official question, the track began to blare music from "Days of Thunder" over the public address system.
Sensing a chance to break the ice, I started with a question about the movie's leading role.
"Dick, I have to ask. Was Cole Trickle your son?"
"Hell, I don't know, kid," he said. "Could be. Some of those nights back there, they're a little fuzzy."