August, 1, 2012
08/01/12
2:48
PM ET
Over the years, 15 different drivers have graced the top step of the podium at the Hungarian Grand Prix, but now just three have done so at least three times after Lewis Hamilton charged to the win in this season's edition. Along with Hamilton, the others to claim this accomplishment are none other than Ayrton Senna (three) and Michael Schumacher (four).
It began with a blistering qualifying session that saw Hamilton on the pole, and he showed supreme poise throughout the day despite being closely pursued by both Lotus drivers. When Kimi Raikkonen pressed him late, Hamilton stayed true to the form he had demonstrated throughout the early laps and collected his first win from the pole since 2010.
Compared to the early stages of his career, Hamilton's wins are now typically coming in a slightly different fashion. His first five career victories all came from the pole, as did nine of his initial 13 wins in Formula One. Hungary, however, is the first victory from the pole for Hamilton in any of his past six wins.
While he's never won from a starting position worse than fourth, he's demonstrated recently that he can win without starting on the pole. In Hungary, however, he simply appeared dominant from beginning to end and was able to control the pace from the first lap.
Regardless of how his wins develop, Hamilton's career has continued to flourish, and the question of what lies ahead was a topic he discussed among reporters after his victory: "I am 100 percent focused this year, regardless of what people think. I've been on it all year, I've never been so committed, but of course I'm still in my 20s, I do want to enjoy my last bit of my 20s, because I've heard it's downhill from then on. I've got to strike a nice balance, and I think I am."
Meanwhile, Lotus has now finished runner-up this season for the fourth time in just 11 grands prix, the most since Benetton had five runner-ups without a win in 1996. That year, Jean Alesi and Gerhard Berger had to contend with the likes of a very strong Williams team, while this season, Lotus is competing against a bit more balance toward the top.
Raikkonen, however, has experienced this before. In 2006, his McLaren team failed to win a single event yet finished second four times.
Nevertheless, the drought for Lotus may end soon. Spa is a place where Raikkonen has truly excelled, and he will likely be among the favorites for victory. Teammate Romain Grosjean, who has shown immense potential this year, should not be overlooked either.
Lotus team principal Eric Boullier certainly believes his team is close to victory, telling reporters, "We qualified better this weekend and we chased the leader of the race for many laps. On a different track layout, which allows overtaking, I think we could have won this race."
Spa will certainly provide overtaking opportunities, and Lotus may well emerge with its first victory of the season.
For now, fans will have to wait out the August break, as will drivers and teams. It's a well-deserved rest for all involved, and it provides a definitive marker between the first and second portions of the season. The next segment of Formula One certainly has high expectations, as this year has delivered both surprises and thrills throughout. The championship battle remains far from decided, which was not the case just one year ago at this time.
July, 25, 2012
07/25/12
1:21
PM ET
Rewind the Formula One season back to before the first event, when preseason testing was in full swing and constructors were still discovering their own capabilities and those of the competition. It was early, but the F2012 did not appear to have the pace of several rivals, and it seemed rather unlikely that Ferrari would win multiple grands prix, let alone compete for a championship.
But among all the doubters, Fernando Alonso cautioned any quick assessments, as he told Spanish sports daily Marca in the preseason, "There has been a tendency, especially from the media, to say that the car is bad and we are not having a good winter, but they don't understand. We are very calm because the car is very complex and there's no reason to believe that it won't be quick."
His confidence has echoed in his performances this season, and Germany was no exception. To date, Alonso has paced the competition for 216 laps this year, 94 more than anyone else. What's more, teammate Felipe Massa has just a single lap led on the season, a rather clear indicator of just how much Alonso has accomplished so far.
With his third victory of the season, he's 34 points clear of the field and has begun to emerge as a title front-runner despite arguably not having the quickest machine. After all, he has yet to post the fastest lap in any event this year.
Alonso enjoyed his 30th win Sunday in Hockenheim, and only three other drivers can claim 30 victories and 75 podiums in their career. Those names are Michael Schumacher, Alain Prost and Ayrton Senna, some of the greatest the sport has ever witnessed. It's a true testament to Alonso; while he has collected an incredible amount of podiums, he also has shown that those are not all finishes of second or third, and that he is consistently a threat to win. In Germany, he definitely demonstrated that from start to finish.
The picture behind Alonso was not quite as clear. Sebastian Vettel and Jenson Button fought for position in the waning laps, and, although it appeared as if Vettel had secured second, a penalty for gaining an advantage over Button while leaving the track relegated him to fifth.
For Button, it was certainly a welcomed break, as it ended a run of only seven combined points in his previous six grands prix. For reference, Button scored fewer than seven points in a single event only twice all of last season.
He'll look to improve his position in Hungary, which drivers and teams must prepare for immediately with only a week between races. It's a challenging circuit that keeps drivers busy throughout the lap, and it has been hosting F1 since 1986. In that time, triumph has mixed with heartache at the Hungaroring, as drivers such as Damon Hill can attest to.
In 1997, for example, he appeared destined for victory in his Arrows machine before Jacques Villeneuve overtook him on the final lap after Hill experienced mechanical problems. Had Hill's car been able to hold on, it would have been an incredible upset, as Arrows was certainly a struggling squad. Perhaps this year will be just as memorable.
The eventual winner should be on high alert, however, as the driver to emerge victorious here has not recently been able to convert the rest of the season into a championship. Since 2002, only once has a driver won Hungary and the title in the same year (Schumacher in 2004).
July, 18, 2012
07/18/12
1:19
PM ET
The 10th round of the Formula One campaign means a stop at the Hockenheimring, a venue that featured considerable controversy upon F1's most recent visit, in 2010.
Although Fernando Alonso was declared the winner, the result cast Ferrari in a very negative light, as team orders had played a large role in Felipe Massa's relinquishing the overall lead. For Massa, it had the potential to be a very significant victory with Ferrari, and, had he won, it's anyone's guess as to how his career would have played out the next several seasons.
In reality, it has been Alonso who has shined since that day, winning six events since that controversial show compared with no wins by Massa. In addition, Alonso has tallied 515 points since, which dwarfs Massa's total of 200, and the Spaniard arguably has been the most impressive driver this year, considering that he is the only man to collect points in every grand prix so far this season.
He once again will look to excel in Hockenheim, Germany, at a circuit that is now a fraction of its former self in regard to distance. Once a venue that sent cars rocketing through the forest, the track is less than 3 miles after the long straights into the woods have been abandoned.
Still, it is generally held in high regard, especially by German drivers such as Nico Rosberg, as he explained to reporters, "Hockenheim is always very special for us, and especially for me. I was born in Wiesbaden, near Hockenheim, and I have really good memories of the previous Hockenheim races. Before my Formula One career, I won quite often at this circuit, and I will never forget my father's last DTM race in 1995. I joined him on the roof of his car driving through the Motodrom -- and that was the moment when I thought to myself, 'How cool is that?' and decided to become a racing driver like him."
It will mark a milestone event for two drivers, as Lewis Hamilton and Heikki Kovalainen will be participating in their 100th grand prix weekend in Formula One. Hamilton is primed to become just the fourth McLaren driver (along with David Coulthard, Mika Hakkinen and Alain Prost) to reach 100 events with the constructor, and he is the only one of the four to start all of his first 100 career races solely with McLaren.
Hamilton arguably experienced more highs and lows in his first few seasons than many drivers do in the course of an entire career. In his rookie season, he missed the championship by a single point, but he was at the top by that very same margin the next year. It was a remarkable sequence of events, and it displayed his ability to fight back after coming so close to the ultimate achievement.
Now, his 100th grand prix comes amid discussions of his future, and he will have to decide whether he wishes to stay with the famed squad or pursue opportunities elsewhere.
Meanwhile, rumors continue to swirl pertaining to Vettel and a possible future with Ferrari. Although the constructor is undoubtedly the most successful in the sport's history, that has not been the case recently. Indeed, since the start of 2011, Vettel has outperformed the entire Ferrari team in some regards.
In that span, Vettel has nine more wins and five more podiums and even has earned nearly the same amount of points. Ferrari has made a bit of a comeback this year, thanks in part to Alonso's brilliance, but Red Bull is still the prime constructor, as indicated by its 64-point advantage in the standings.
But there are elements outside of performance, of course, and no doubt those could factor into Vettel's eventual decision.
July, 11, 2012
07/11/12
2:48
PM ET
Mark Webber's lengthy Formula One career has seen both heartbreak and elation, and this season could very well be a high point for the veteran.
His second win of the year certainly has put the competition on notice, and he no doubt has his focus on joining Jack Brabham and Alan Jones as Australian F1 champions.
Webber does have an edge in one category, though. With his victory in Great Britain, he earned his 32nd career podium, passing Brabham for the most by an Australian driver in the sport's history. Webber has benefited greatly from his pairing with Red Bull, as 30 of those podiums have come in the past four years, and he has become a supreme example of what can happen when a talented driver is paired with a capable squad.
His drive at Silverstone showed patience and poise, as he took advantage of Fernando Alonso's ailing tires late. Overall, Webber's performance was impressive, considering Alonso appeared to be the man to beat for much of the grand prix. The Spaniard again displayed his ability to get the most out of his machine, but in the end, he was virtually powerless in stopping Webber from overtaking.
It's been a busy week for Webber, as he has extended his stay with Red Bull by another year. Webber explained his decision, saying, "I'm high on confidence at the moment and firing on all cylinders. I know the team well, and I'm very comfortable here. We have grown together over the years, and it feels like absolutely the right thing to stay with Red Bull for another season."
While Webber is excelling this season, other stars, such as Jenson Button, have continued to suffer through a down year. Button collected just a single point in Great Britain and has finished eighth or worse in six straight events. He has earned less than 40 percent of leader Alonso's point total. To put that in perspective, only one full-time McLaren driver in the past five years has had a lower percentage compared to the leader over the course of a full season (Heikki Kovalainen in 2009).
Typically, the winner of the first grand prix of the season has fared well the rest of the year, but Button is eighth in the standings. Since 1975, David Coulthard, in 2003, has the worst finish in the standings by the winner of the season opener (seventh), so if Button holds his position, it would certainly be an unusual occurrence.
Button is much too talented a driver to be so far down in the championship battle, and it is likely that his fortunes will take a turn for the better over the remainder of the year. For now, Button's assessment to reporters recently was rather alarming.
"It's not just the Red Bulls that are stronger than us," he said. "It's the Ferraris, it's the Lotuses, I even think the Williams and the Saubers."
McLaren has begun to fall off the pace this season as a whole, a rather surprising development considering the constructor appeared to be the strongest early in the year. A single upgrade can turn things around quickly, however, and this team in no way can be ruled out over the remainder of the year. After all, this season has been full of surprises, and there likely are many defining moments lurking in the shadows.
June, 27, 2012
06/27/12
3:31
PM ET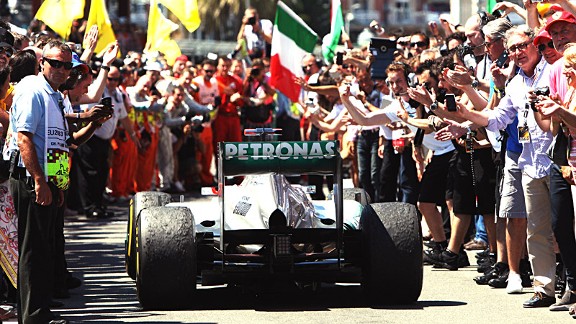 Ker Robertson/Getty ImagesIt had been a very long time since Michael Schumacher had drawn applause for a podium finish.
The opening laps in Valencia suggested that this year's version would be similar to recent editions on the street circuit.
Sebastian Vettel looked to be in complete control as he opened up a commanding lead, but mechanical gremlins ultimately ended his run early, opening the door for the competition.
Fernando Alonso took full advantage, to the delight of the home-country crowd, and collected a remarkable victory after starting 11th on the grid.
Aside from his memorable and controversial victory in Singapore in 2008, it was his worst starting position in an event he went on to win.
In addition, his victory earlier this year in Malaysia saw him start eighth, meaning he has been forced to make up some serious ground en route to his two wins this season.
Alonso has done an incredible job this season of pushing his car to the limits, but Ferrari still has plenty of room for improvement, as he told reporters after Valencia.
"It's true that we believe and we will never give up, we will have confidence in ourselves and we will arrive with optimism at every grand prix we go to," he said. "But at the same time, apart from winning today or finishing sixth today, we know that we are not in the position that we want to be and there are a few cars quicker than us and we cannot be blind to that.
"We need to work."
Red Bull still appears to have the quickest car lately, but Vettel now finds himself 26 points behind championship leader Alonso. That gap can certainly be closed, as Vettel eliminated a 19-point deficit in 2010 after eight rounds to win the championship, but it is a surprising position for him this far into the season.
Vettel was certainly not the only driver to suffer misfortune in Valencia, as Romain Grosjean also became a casualty of his Renault power plant. When Lewis Hamilton crashed late, it allowed for Michael Schumacher to score his first podium with Mercedes.
In what has been a very tough year, it was a standout result, and it marked the first time in nearly 2,100 days that Schumacher had reached the podium.
It was a finish that surprised many, as Schumacher found himself outside of the points with fewer than 20 laps remaining. It surprised even the driver himself, as he detailed to reporters.
"I didn't actually think about a podium at all at the end of the race," he said. "It was crossing the line that I asked my guys 'where did we finish?' I saw [Mark] Webber's pit board and close to the end it showed him eighth and seventh, and I knew I was one place ahead of that one. And then the boys told me 'that's third, that's podium.'
I can't believe that! It's something I didn't really expect."
Sure, he was on fresher tires than many other drivers, but he did a great job of dicing through the field. When several front-runners ran into trouble, he was able to secure an impressive day.
What's more, this season has now seen 11 different drivers on the podium, more than the previous two seasons combined. That's a pretty clear indication of just how varied this year has been, even when compared to a very thrilling 2010 season.
As the F1 calendar moves on, a storyline to watch next time out will be Vettel's pursuit of a 34th-career pole. It is a significant milestone, as it will give him sole possession of third place on the all-time pole ranks behind only Schumacher and Ayrton Senna.
June, 20, 2012
06/20/12
4:35
PM ET
Do you have to win a lot to win the title?
"It's certainly feasible that this year's title could be won by a driver who scores only two or three grand prix wins, but who reinforces those victories with the most consistently solid approach," McLaren team principal Martin Whitmarsh told reporters recently. "So, whereas in previous years, there was an emphasis on the 'big' results, this year it seems that minor points placings could provide a decisive edge in the title battle."
It does seem possible that a mere two wins could yield a championship this season -- as Whitmarsh said -- if that driver is able to back it up with consistent podium finishes.
Since 1970, the title winner has won three or fewer events seven times, but it has not occurred since Nelson Piquet in 1987. The gradual increase in stops on the F1 calendar has provided competitors with more chances at victory, and unless remarkable balance existed, two or three wins in a season was not going to be enough.
This is not the typical season, and therefore, if the eventual champion were to win just two or three grands prix, it would certainly stray from recent trends.
Valencia is the next stop on the schedule, an event where the man on the pole has won three of the four times.
Although it has the appearance of a street circuit, there are numerous runoff areas, so the track does not always punish a driver's mistakes like a true street event typically does.
Despite having the most turns of any circuit on the schedule this year (25), the course does not yield a particularly high amount of passing opportunities, often making this a frustrating venue for drivers who do not start up front.
Last year, only one driver who started outside the top 10 there finished in the points, which demonstrates just how difficult it can be to make up any significant ground in Valencia.
It has not provided great battles up front either, as Sebastian Vettel has paced the field for all but one lap in the last two seasons combined. Rumors of Valencia's future on the Formula One schedule have been circulating, and a poor on-track product will likely only keep that speculation alive.
As for Vettel, another win there would make it the 23rd of his career, tying him with Piquet for 10th on the all-time list.
That's pretty remarkable, considering Vettel has yet to turn 25. His pace has been phenomenal, as he's winning at the same frequency that Alain Prost and Ayrton Senna did throughout their careers. The tough part will be sustaining that over a lengthy career, and while Vettel undoubtedly has the skill, the car he drives will also play a substantial role.
Perhaps Vettel will also break up the streak of consecutive different winners, which is now up to seven. It's two shy of tying the F1 record, and several more twists will likely be required for the streak to reach nine straight, as many front-runners have taken part in the streak to this point. With passing at a premium at Valencia, a strong qualifying effort is likely needed from any driver looking to extend this run.
One team to watch will be Lotus, a squad that has come very close to winning this year. As Kimi Raikkonen noted to reporters, "It's likely to be hot, and we seem to go well in warm conditions, so that's what we'll be hoping for."
If the conditions are right, Lotus may just have enough to claim a victory.
June, 13, 2012
06/13/12
11:00
AM ET
Tires have seemingly dominated the Formula One landscape this season, and in Montreal, they once again helped to tell the story. The drama truly emerged late in the Canadian Grand Prix, when both Fernando Alonso and Sebastian Vettel were attempting to nurse worn tires and fend off a fast-charging Lewis Hamilton.
In the end, McLaren's strategy paid off as Hamilton became the seventh different winner in as many grands prix this season, while his constructor continued to pace the field in Montreal (having won five of the past seven at Circuit Gilles Villeneuve).
Fresh rubber has proved to be an exceedingly valuable commodity this season, and the driver who can best conserve his tires certainly has an excellent chance at victory, providing his team has given them a proven race blueprint. Because of his sound drive, Hamilton is now just four wins shy of Vettel for the most since the start of the 2007 season.
A true challenge lies ahead for Hamilton, however, as recent winners have had trouble with consistency. The trend began with Vettel's win in India last season. Following that event, the most recent winner has failed to reach the podium in the next race every time, a rather alarming occurrence that signifies just how unpredictable F1 has been lately.
The driver who can consistently notch podium finishes, and not necessarily wins, should be in great shape this season, as it seems unlikely that one man will control the top step for the rest of the year.
Romain Grosjean and Sergio Perez filled out the podium, and in turn, each earned their second podium finish of the season. Both could be F1 stars of the future, as they have displayed several impressive performances this season. Since China, Grosjean is behind only Vettel, Nico Rosberg, Hamilton and Mark Webber for points earned, and could realistically win a grand prix this year if he continues this pace.
Lotus has shown to be quick, and Grosjean was asked by a reporter in the postrace press conference how close to victory he believes he is: "The gap is not that big. We need to qualify better. That is not our strength this season, but we are working on it. I think Friday and Saturday were quite difficult for us, but we have been learning a lot about the car, so it's good that we now have that in our pocket for the next races. Then you never know."
Meanwhile, Perez has been forced to make up some serious ground in each of the past two races. In Monaco, he started 23rd on the grid and finished 11th, while in Canada he finished third after starting 15th. That's made his podium finish all the more impressive, considering it is the worst start by a man to finish on the podium since Webber started 18th over a year ago in China. Sauber has built a quick car this year in various conditions, and like Lotus, is an outside threat to win a grand prix. With a strong grid position this team is dangerous when it employs an aggressive strategy, and Perez has shown he is capable of challenging the strong runners.
The improvement of several newcomers to F1 combined with the latest version of tires has made for a wild season thus far, and it now appears that the true surprise would be if the rest of the season diverted from what fans have witnessed so far.
June, 6, 2012
06/06/12
11:28
AM ET
There was a time when the city of Montreal was not the kindest host to McLaren. When Circuit Gilles Villeneuve opened its doors to Formula One in 1978, it was Ferrari that enjoyed the first win, and McLaren didn't find victory at the track until 10 years later. What's more, the initial 26 events at Circuit Gilles Villeneuve saw McLaren win just four times, a relatively small tally considering rival Ferrari claimed 10 victories while Williams had seven in that same span.
Since 2005, however, McLaren has been the most successful team at the picturesque venue. In the six grands prix since, the constructor has won four times, including each of the past two races. Those victories have come in very different fashions as well. Last year, Jenson Button battled through severe wet conditions as well as contact with teammate Lewis Hamilton before overtaking a dominant Sebastian Vettel in the waning moments. The year prior, the conditions were dry when Hamilton looked to be the dominant driver. His victory took just a touch over an hour and a half, compared to Button's win, which spanned over four hours.
The fact that McLaren claimed both events means that this team can handle a range of challenges that Circuit Gilles Villeneuve has to offer, and thus is arguably the team to beat heading to Montreal despite Red Bull's recent run this year. In addition, Red Bull may lose a bit of its edge after it must now redesign the floor of the car to eliminate holes that were deemed illegal. With an expected design alteration, it further raises questions as to Red Bull's performance in Sunday's Grand Prix of Canada.
This is also a track the team has never won at, so Red Bull certainly has something to prove this time out, as team principal Christian Horner told La Presse, "Even if the circuit is not the most exciting of the season, it has always produced exciting racing. This is one of the only races that Red Bull has never won, even though we came very close last year. It would be wonderful to come back and rectify the situation. In Montreal, power is crucial. It's the complete opposite of Monaco. Who knows if we'll be competitive, but we'll be in attack mode."
One driver to watch this weekend may be Nico Rosberg. The Mercedes pilot has collected 59 points in his last four starts, more than any other driver in that span, and he's been a prominent factor so far this year. At this point, few would probably be surprised to see him running near the front again.
As for the circuit itself, there should be one question raised based on recent history: Is the winner in Canada the man to beat in the championship battle? If one of the usual suspects takes the top place on the podium, the answer may seem rather obvious, but in actuality they may have an uphill battle the rest of the way if relatively new trends weigh in. Of the past six winners here, only one has gone on to win the championship (Fernando Alonso in 2006) that same season, so this grand prix has certainly not been a great title predictor recently.
Perhaps part of the reason is that the circuit is unlike most on the calendar. The walls leave little room for errors, and the surface is notoriously tough on tires. There are also some fast straights mixed with very slow bends, which makes for a challenging setup. And when wet weather plays a part, as it did last year, it makes for a rather unpredictable event. The first few corners on the opening lap are typically chaotic as well, meaning some drivers may find themselves out of the running very early on.
May, 30, 2012
05/30/12
11:19
AM ET
The unpredictable nature of Formula One has been on full display all season, and Monaco was no exception. A second career win in Monte Carlo for Mark Webber did not come easy, and he was forced to play defense for much of the event to secure victory. Because of his superb drive, Webber is now the 13th driver to win this prestigious event multiple times.
In addition, Red Bull further emerged as the constructor to beat on the streets of Monaco, having now won this event three straight years. That's an impressive accomplishment, considering it is the first time that's happened since a dominant McLaren squad won six straight from 1988-1993. What's more, it's an achievement not even Ferrari can claim in its illustrious history.
The past three trips to Monte Carlo now have seen Red Bull lead over 90 percent of the laps run, which is a testament to just how dominant the team has been there recently. This year, Red Bull was well prepared for multiple scenarios. Had the rain come, Red Bull would have been in excellent shape, as Sebastian Vettel was staying out in hopes that the track would dampen. If it had, he would have been primed for victory. The circuit remained dry, however, and therefore teammate Webber was again the man to beat.
More importantly for Webber, it brings his name toward the forefront of the championship discussion, and it is a reminder of just how balanced and highly contested this season is. Looking ahead, the eventual champion may not need to post the most victories, but consistent finishes in the points are without a doubt critical.
Just behind Webber was Nico Rosberg, who performed admirably but simply could not find room to overtake the leader in the closing laps. Still, it was a significant finish for him, as it was his first podium at Monte Carlo in Formula One. Rosberg has displayed some impressive performances this year, and with the maiden victory now behind him, he can focus exclusively on a championship run. So far, he's right in the title mix and has been vastly outshining teammate Michael Schumacher to the tune of 59 points to two. Of course, Schumacher has suffered from some bad fortune this year, but it is a rather staggering gap between the duo.
The top seven drivers are separated by just 31 points, meaning a victory next time out puts any one of those pilots in great position. That includes Jenson Button, who has struggled since his season-opening victory in Australia. Including Monaco, Button has failed to collect points in three events this season, already surpassing his total from all of last year.
In the past five events, Button has lost 46 points on Fernando Alonso, but the chaos that has been this season means change may just be a grand prix away, as McLaren team principal Martin Whitmarsh noted to reporters, "Our next stop will be Montreal, another non-purpose-built racetrack, but one on which overtaking is at least feasible. Jenson won brilliantly there last year, and Lewis [Hamilton] won superbly there the year before, so although we weren't able to add to our unrivalled record of 15 wins here at Monaco this afternoon, you can rest assured that in two weeks' time we'll be aiming to score a hat trick of Vodafone McLaren Mercedes Canadian Grand Prix victories."
Right now, it's certainly anyone's guess as to who will be the next man on the podium's top step.
May, 23, 2012
05/23/12
3:43
PM ET
Few could have forecasted the immediate success Kimi Raikkonen has enjoyed in his return to the sport, and his ability to adapt has been impressive to say the least. He has come so close to victory lately, but has wound up just short, and a win at Monaco on Sunday would surely make a title statement.
It is a banner weekend for Raikkonen, as he will be making his 161st recognized start in Formula One, tying him with the legendary Mika Hakkinen for the most by a Finnish driver. While both have compiled impressive numbers throughout their careers, they are also known for bringing the fight to some of the greatest drivers in F1. Both Hakkinen and Raikkonen finished runner-up to Michael Schumacher during his dominant stretch, feats that should not be taken lightly considering Schumacher's remarkable run.
Raikkonen, however, would be surpassing Hakkinen in Monaco had it not been for an unusual occurrence back in 2001 at the Belgian Grand Prix. After a scary accident only a few laps into the event involving Luciano Burti and Eddie Irvine, the race was completely restarted, but Raikkonen was unable to take to the grid, as his car had already expired. Therefore, he was not credited with a start. It was a very odd scenario and one that continues to create some confusion surrounding his start totals even today.
Nevertheless, it is a milestone grand prix for Raikkonen, and if he were to win, he'd be just one victory shy of matching Hakkinen's total. The two certainly have more of a link than most drivers, as not only are they from the same nation, but Raikkonen once served as Hakkinen's replacement at McLaren. The challenge of replacing a champion must at times seem overwhelming, but Raikkonen has had little problem living up to expectations throughout his career.
A win for Raikonnen also would make him the 13th driver in history to win Monaco twice, and it would place him among greats such as Fernando Alonso, Niki Lauda and Juan Manuel Fangio. He recently spoke to reporters about returning there, saying: "To race in the streets of Monte Carlo is really different from everywhere else; a challenge I look forward to every year. It is very, very difficult, almost impossible, to have a clean weekend there. I've only managed to get it right once before -- you really do get the greatest feeling by winning it. My win in 2005 ranks up there with my most memorable. Monaco is always special. It's an interesting place to go to, with a lot of fans and a lot of parties going on, or so I'm told. It's a completely different atmosphere from anywhere else."
As for Pastor Maldonado, another victory in Monte Carlo seems decidedly unlikely, but history has not completely written him off. In each of the past three occasions that Spain has directly preceded Monaco, the winner in Spain then has converted that momentum into victory on the winding streets. Going back a bit further, it has happened in five of the past six opportunities. It has made for a very interesting trend, considering the circuits are completely different.
The one similarity the venues do have in common is that qualifying up front is imperative, and Maldonado will need another brilliant qualifying effort to have a reasonable chance of winning, as seven of the past eight winners here started on pole.
Overtaking is notoriously difficult here, but it can be done, especially coming out of the tunnel on the approach to Turn 10. That's where Alonso did a considerable amount of overtaking in 2010 when he started in the back.