Jerry Jones' big shake-up in Dallas this week was met with some disagreement from a surprising source.
"I wanted them to leave it exactly how it is," said Joel Madden, of Good Charlotte. "We don't want [Wade Phillips] to go," said his twin brother, Benji. The Madden brothers are both huge Redskins fans looking to pile on to the Cowboys' misery.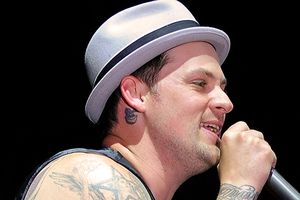 AP Photos/Jeff Daly/PictureGroupJoel Madden has an Orioles tattoo behind his ear.
The Maryland natives are big sports fans, particularly of the teams they grew up with. They both offer tributes to the Orioles among the maze of ink on them.
Joel's is the team's cartoon bird logo behind his right ear. Benji has a representation of a menacing oriole on his right hand. Joel adds that his next tattoo is going to be the Redskins logo on the top of his hand.
The Madden brothers said the tattoos were actually a way to push themselves toward a music career. "For me, it was insurance that I'll never be able to get a real job," Benji said. "If we get covered with tattoos, we won't be able to do anything else," Joel said.
Joel says he's ready to see some ink in other sports besides the NBA or NFL.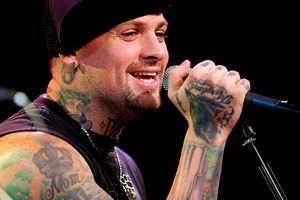 Jeff Fusco/Getty ImagesBenji Madden's got an oriole on his right hand.
"I wonder when athletes will start really going for it," Joel said. "I wonder when a golfer's going to do it. That would really blow my mind. It would be amazing to see a young, great golfer come out and be tattooed on his hands or neck. Or a tennis player."
"I'm all about contradictions," Joel said. Benji agreed: "Our music contradicts our look."
"We play really bright, poppy rock music," Joel added. "And then you see us and we're in all black with tattoos. If you just looked at a picture of us, we probably look like we played heavier music than we what actually play and to who we actually play to."
The band, which released its fifth album, "Cardiology," last week, visited ESPN this week, where clips of their music have often made their way into highlights. The brothers offered an explanation of why:
"It's just hooks, you know?" Joel said. "We can guarantee you that 15 to 30 seconds of any of our songs are going to be good. The rest, we can't guarantee," Benji offered with a laugh.