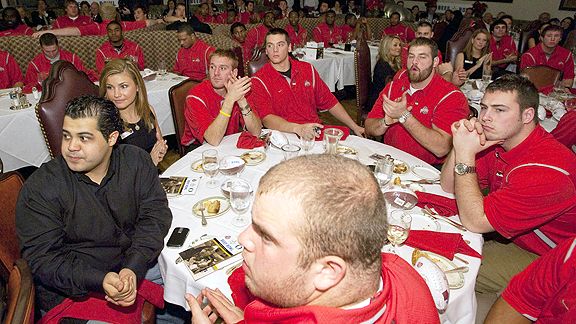 Todd WawrychukESPN columnist Arash Markazi dines with the Ohio State football team at this year's 'Beef Bowl'.
Ohio State coach Jim Tressel seems like a nice guy but I'm glad he's not my coach. If he were, there's no way I would be here, walking into Lawry's The Prime Rib with the Ohio State football team wearing jeans for the annual Beef Bowl before the Rose Bowl.
Since I'm not officially part of the team, I must have missed the memo that stated that players and coaches were forbidden from wearing anything but slacks to the upscale restaurant. Terrelle Pryor must have missed (or ignored) that memo, too, because he's not with the team after trying to get on the team bus wearing jeans similar to mine.
This is not only unfortunate for Pryor, who will be missing out on putting a dent into the 700 pounds of prime rib that has been prepared for the team, but also for me, as I was supposed to be sitting next to Pryor tonight.
I've never had to replace a star quarterback for anything, and luckily for Ohio State fans I won't be anywhere close to the field if something happens to Pryor on New Year's Day, but when it comes to eating prime rib and sitting next to the Rose Queen, I think I can hold my own.