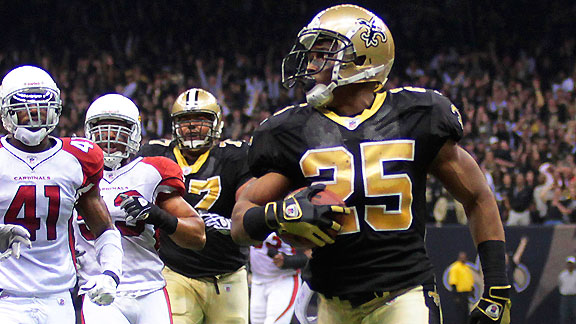 AP Photo/Dave MartinSaints running back Reggie Bush scored on a spectacular 46-yard run.
I may be counting the "who dats" before they've hatched, but if Reggie Bush goes to the Super Bowl and the Lakers repeat as NBA champs, would that mean the Kardashian women are now sports' unofficial good luck charms?
All credit card and sex tape jokes aside, it's worth noting that Bush, Kim Kardashian's boyfriend, turned in perhaps his finest day as a pro against the Arizona Cardinals as Kim Kardashian cheered vigorously in a private suite.
Also, the Lakers had the best record in the NBA, even though many predicted Lamar Odom's surprise marriage to Kim's sister, Khloe, last September, would somehow ruin the Lakers season.
I know, I know, who you're with shouldn't matter as much as how you play. But whenever an athlete is dating someone and it seems to have an adverse effect on their career, we don't have any problems holding their significant others responsible.
While with Jessica Simpson, Tony Romo couldn't win in December and couldn't win a playoff game. Without her, he's not only notched a December win and his first playoff victory, but he currently has the lowest interception total as the Cowboys starter.
Without wife/supermodel Gisele Bundchen, Tom Brady has three Super Bowl rings. With her, he has 18-1, a blown knee, and a blowout loss to the Ravens this postseason.
If a significant other/spouse can cause a downfall, certainly they can be responsible for a career surge. Just ask Alex Rodriguez about Kate Hudson.
So if keeping a Kardashian is the new rabbit's foot in 2010, then maybe Kourtney Kardashian should make for any member of the Detroit Lions.