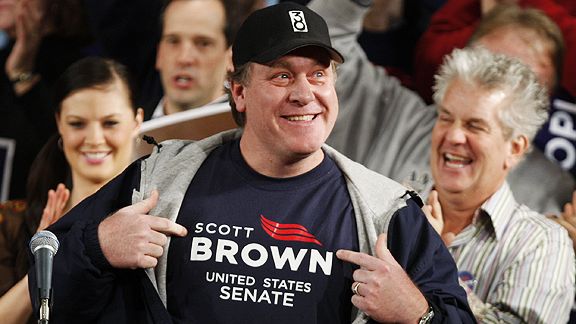 AP Photo/Robert F. BukatyEx-Red Sox pitcher Curt Schilling shows his support for Massachusetts State Senator Scott Brown.
Call it a swing and a miss.
In a radio interview on Friday evening, Martha Coakley, the Democratic candidate to fill Massachusetts' U.S. Senate seat vacated by the death of Ted Kennedy, referred to former Red Sox Curt Schilling as a Yankee fan.
Schilling, an outspoken Republican who even mulled running for the same seat last fall, is backing Scott Brown, Coakley's GOP challenger.
One of Coakley's staffers later explained her off-the-cuff comment to Politico, saying, "Curt Schilling has been involved in a lot of strikeouts over time. I guess Martha whiffed on that joke."
To the ever-conservative and never short-for-words Schilling, it was a line drive at his dignity. (To be fair, many in Red Sox Nation might find accusing one of rooting for the pinstripes just a step up from insulting one's mother.)
In a blog post titled, "I've been called a lot of things", the retired pitcher wrote: "But never, and I mean never, could anyone ever make the mistake of calling me a Yankee fan. Well, check that, if you didn't know what the hell is going on in your own state, maybe you could."
The election is Tuesday, and the Senate race heads into the ninth inning virtually tied.