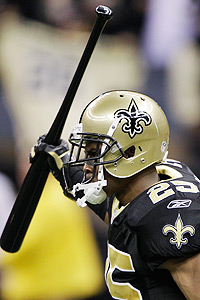 AP Photo/David J. PhillipReggie Bush had a career day against the Cardinals. Does he owe it all to that bat?
Can a baseball bat inspire during the NFL playoffs? Apparently, for the New Orleans Saints, it can.
Before the New Orleans Saints' 45-14 playoff victory over the Arizona Cardinals, Saints coach Sean Payton presented each player with a black baseball bat that included these words emblazoned on the barrel to inspire physical play:
"Saints vs. Cardinals. Jan. 16, 2010."
"Bring The Wood!"
Reggie Bush was so pumped, he hoisted the bat in his right fist as he ran onto the field before kickoff at the Superdome. The result? Five carries for 84 yards and a touchdown to complement his 83-yard punt return for a score late in the third quarter. Some even consider the performance to be the 2005 Heisman Trophy winner's best of his four-year NFL career.
"In sports, part of it is guys are motivated differently," said Dr. Patrick Cohn, president and founder of Peak Performance Sports in Orlando, Fla. "The best coaches are able to tap into that, whether they're more internally motivated or more extrinsically motivated. Good coaches know that and know how to push the buttons to get the most out of their players."
At the NFL level, Cohn said, most players are self-motivated and do not need items such as bats or trophies to provide inspiration. He also said players who are intrinsically motivated -- regardless of sport, age or competitive level -- tend to be more successful.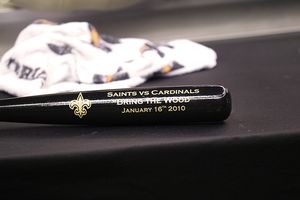 AP Photo/David J. Phillip
"There's a kind of divide in sports psychology about where you want the motivation," Cohn said. "Do you want players motivated by coaches with things such as trophies or a bat? Or do you want players who are more intrinsically motivated [and] have their own goals and are striving for their own excellence?
"[We believe] you want a player who is more intrinsically motivated."
Regardless of perceived psychological effectiveness, the bat became a symbol for the Saints' dominating victory and Bush's breakout game.
No word yet what, if any, inspiring souvenirs Payton will hand out this week.