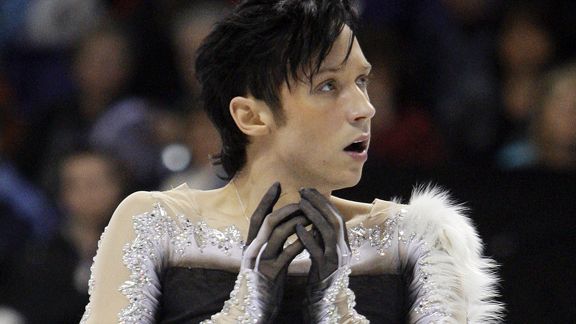 AP Photo/Elaine ThompsonHere's the costume Johnny Weir wore on Jan. 17, drawing the ire of animal rights advocates.
This was only a matter of time. Johnny Weir has been forced to switch from real to fake fur.
Weir wore a costume for his free program at the U.S. Figure Skating Championships two weeks ago that included a small amount of -- gasp! -- white fox fur on his left shoulder. Not surprisingly, he received enough protests and hate mail from animal rights advocates that he has decided to replace the fox with faux fur.
The death toll in Haiti is more than 150,000. Soldiers are dying in Afghanistan and Iraq. One in 10 Americans are unemployed and homeless shelters are swelling. But hey, Johnny Weir wore a piece of fur on his costume! We can't have that!
"I would like to announce that due to pressures and threats from a certain animal rights group, I will be changing the genuine fox fur on my free program costume that I will use in the 2010 Winter Olympic Games in Vancouver, B.C., to white faux fur," Weir said in a statement first posted on icenetwork.com. "I made this decision after several threats were sent to me about disrupting my performance in the Olympic Games and my costume designer, Stephanie Handler, was repeatedly sent messages of hate and disgust. I do not want something as silly as my costume disrupting my second Olympic experience and my chance at a medal, a dream I have had since I was a kid.
"I hope these activists can understand that my decision to change my costume is in no way a victory for them, but a draw," Weir continued. "I am not changing in order to appease them, but to protect my integrity and the integrity of the Olympic Games as well as my fellow competitors.
"Just weeks away from hitting my starting position on the ice in Vancouver, I have technique and training to worry about and that trumps any costume and any threat I may receive."
Priscilla Feral, president of Friends of Animals, told The Associated Press that no one from the group had threatened Weir.
"If he's made the smart decision I hoped he'd make, to shun the skins of animals and not decorate his costumes with them, that's a very good thing and I'm happy to hear it," Feral told The AP.
Weir has strong opinions and is not shy about expressing them or defending them. When asked about the fur during the U.S. championships two weeks ago, Weir said he thought "it was lovely."
He also said "PETA has been up my butt since the 2006 Olympic Games. I get postcards and nasty hate mail and videotapes of animals being skinned. And while I feel bad and understand their side of things, I take my little autograph card and I sign my name and I draw a chipmunk with X's over its eyes and I mail it back. Don't attack me for a personal choice. You're protecting animals. We have soldiers dying all over the world. Choose your battles. Don't pick on me."
That was then. Apparently, even Johnny can take only so much. "When 'Friends of Animals' starts sending my costume designer hate faxes, it's gone too far,'' Weir tweeted recently.
So now it will be fake fur. Whew. Thank God. The Olympics can go on and we can focus on weightier, more important matters, like whether the cheese fondue to be served at the Swiss Olympic House represents an abuse of cows.