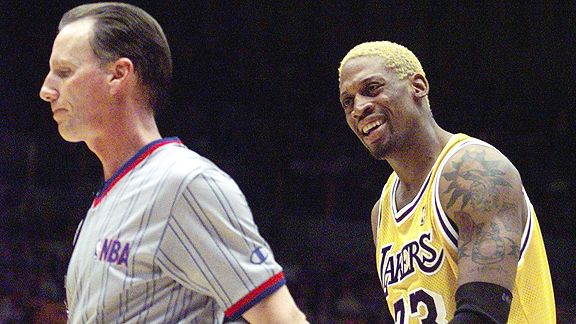 Mike Nelson/AFP/Getty ImagesLakers owner Jerry Buss insisted on signing Dennis Rodman in 1999, to the chagrin of GM Jerry West.
With Kobe Bryant becoming the leading scorer in Lakers' history, a popular topic of discussion has been his place among the elite players in franchise history.
ESPN Los Angeles ranks the top five Lakers as Magic Johnson, Kareem Abdul-Jabbar, Kobe Bryant, Shaquille O'Neal and Jerry West, respectively.

Not much controversy there.
But who are the five worst players in Lakers history? Now there's a debate Page 2 can get behind.
Here are the worst five Lakers ever as we see it:
5. Sam Bowie: The man known best for being drafted one spot before Michael Jordan played 92 mediocre games for the Purple and Gold from 1993 to 1995, and he was the second-highest paid active player on the team at that time.
4. Wes Matthews: The former Wisconsin guard makes our list for slurring Seattle's Xavier McDaniel and vowing, "I can't wait to play him again, because his bald head is mine," after the two mixed it up in a game in 1987. What happened in the teams' next meeting? Nothing. Matthews didn't get into the game until the final two minutes.
3. Chuck Nevitt: He was 7-foot-5 and had six fouls to give.
2. Kwame Brown: Would be No. 1 on this list, except he helped the Lakers acquire Pau Gasol.
1. Dennis Rodman: During his turbulent 23 games with the Lakers in 1999, the Los Angeles Daily News reported there were: "Numerous late arrivals. Four skipped practices. Four missed games, and a trip to Las Vegas while the team was on a six-game road trip. And four instances of refusing to re-enter a game." Nicely done, Worm.
Also receiving votes: Sasha Vujacic, Adam Morrison, Smush Parker, Brian Grant, Samaki Walker, Jelani McCoy, J.R. Rider, Fred Roberts, Benoit Benjamin, Jack Haley, Spencer Haywood and Mark Madsen (worst dancer, anyway).