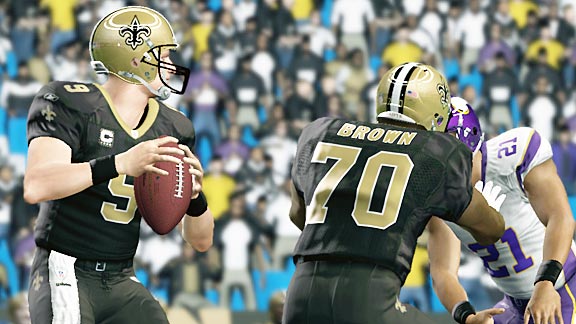 For the first time in "Madden" franchise history, the coveted (cursed) cover will be decided by fan vote. Starting Thursday, fans will be able to log onto the site www.doritoschangethegame.com and vote daily for either Drew Brees, Reggie Wayne, or Jared Allen to appear on front of the "Madden NFL 11" box.
Voting will continue through March 15, and EA Sports is expected to announce the winner sometime around the NFL Draft.
In talking to Brees earlier this season, he joked that he's a lot better at playing quarterback in real life than he is at "Madden."
"I've never even thrown for six touchdowns in 'Madden,'" Brees told me after throwing six touchdowns in real life against the Lions. "I've had people throw six touchdowns on me, but I've never thrown that many in 'Madden.' Fans tell me that my 'Madden' character is all souped-up in the game, and it's pretty crazy to sit there and see how cool the graphics look, but I guess I'm just not very good at playing as myself."