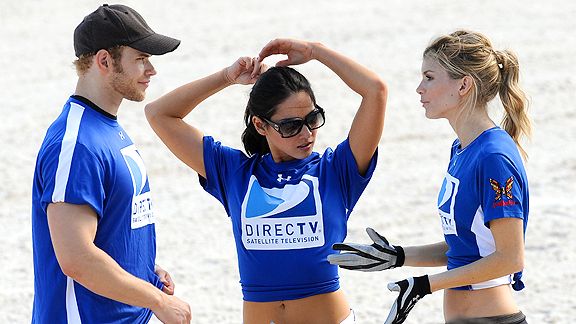 AP Photo/Evan Agostini Actor Kellan Lutz, model Olivia Munn and model Marisa Miller participate in the Celebrity Beach Bowl.
The Super Bowl has a way of bringing out some of the biggest names in Hollywood along with the biggest names in sports. Page 2 chatted with Twilight's Kellan Lutz about his Super Bowl weekend and his dreams of playing football -- before he stumbled upon a little bit of fame with the whole Twilight franchise thing.
"I love football," he told Page 2. "I miss my high school days where I played. I was going to college for (football) and then acting came up so I had to put school on hold and now I'm on this acting adventure."
Despite his love for the game, he'll be the first to admit he made the right choice when it comes to career success.
"I don't think I'm tall enough, big enough or strong enough to be in the Super Bowl," he said. "I just miss playing football and getting hit and hitting people."
Lutz has been making the party rounds at the Super Bowl, hitting up the Tide Plus Febreze Freshness Sport Launch, the Audi Superbowl XLIV Party at The W South Beach, the Direct TV Beach Bowl and of course, he'll be at the Super Bowl game on Sunday.
"I've been dreaming to have the chance to go to the Super Bowl and my Cardinals went last year and I was unfortunately not able to attend that game but this game is going to be a good one," he said. "I really want the Saints to win. I think Manning and the Colts have such an amazing team, but the heart that the Saints have I really hope pulls through."