Over the years, "The Simpsons" has provided fans with numerous sports-themed episodes -- from "Homer at the Bat" to "Saturdays of Thunder" to "Team Homer" (aka the Pin Pals bowling episode).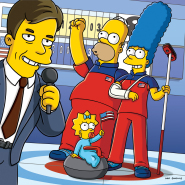 Last Sunday, the cast was featured in a Super Bowl ad. And this coming Sunday, they will tackle a Winter Olympic sport -- namely, curling.
How the Springfield crew is able to transition from bowling to bonspiels and broomsticks remains to be seen, but Rob LaZebnik -- writer of the "Boy Meets Curl" episode -- pointed out that due to her dutiful housekeeping skills, "Marge has developed and honed a natural sweeping ability over the past 20 years."
Page 2 caught up with Homer and Marge Simpson before their big Olympic debut on Sunday:
Page 2: Congratulations on making it to the Vancouver Games! Just out of curiosity, how long was the trip from your hometown of Springfield? Was it a short drive from, say, the Oregon area? Or was it a much longer trip from, say, the state of Illinois?
Marge: All we can say regarding our trip is that Homer drove the car nonstop and peed only in a coffee can.