Memphis Grizzlies center Hasheem Thabeet -- as predictable a bust as the NBA has ever seen -- was demoted to the Dakota Wizards of the D-League on Thursday.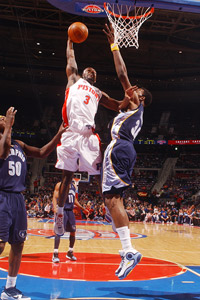 Allen Einstein/NBAE/Getty ImagesWithout Hasheem Thabeet, who are NBA players going to dunk on?
Question now is, who are guys going to dunk on?
It's been years since the NBA had a top-of-the-line poster model. The retirements of Shawn Bradley and Greg Ostertag have left the NBA without a big man good enough to stay on the floor but perfectly built for getting dunked on viciously.
Thabeet looked to be the heir apparent. But to get flushed on, he actually has to get better. With more time on the court in the D-League, his defensive rotations should improve, putting him in prime facial position. That's the path to a long, fulfilling career.
Fulfilling for us, anyway.
In the D-League, Thabeet can become that guy. D-Leaguers must be lining up to use him as their ticket to "SportsCenter's" Top 10 Plays. At 7-foot-3, Thabeet is a vast canvas that would inspire any aerial artist. In the lane, his presence screams, "Your 15 seconds of fame start now."
Of course, Thabeet won't get jammed on in every game. He'll take his share, and he'll send a few back, and he'll get back to the show. Being tall -- and that's all -- kept Bradley in the league for 12 years.
Will Thabeet get that long? May we be so lucky.