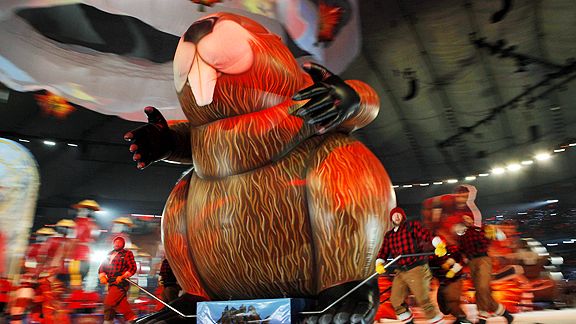 AP Photo/Jae C. HongWouldn't one of these look great in your backyard?
Millions of people tuned in to watch the Olympic closing ceremonies in Vancouver this past Sunday. If you were among them, you might have thought, "What a nice tribute to Canada." Or, "It's great to see the athletes of the world come together." Or, "I really need one of those giant inflatable beavers."
If the last of those sentiments applies to you, good news! According to the Ottawa Citizen, for just five grand, one of those huge rodents can be yours. It's an even better deal considering that's 5,000 Canadian dollars, making it only $4,846.88 U.S. (If you want the 35-foot-tall moose, it'll cost you a little bit more.)
Dynamic Displays created the oversized beavers, moose, Mounties and foam hockey players that appeared during the closing ceremonies. Now the Windsor, Ontario-based company is selling them off at what can only be considered bargain-basement prices. Especially when you consider that the "G.I.B." -- as those on the Giant Inflatable Beaver Facebook fan page refer to them -- have amassed nearly 5,000 fans since making their debut on the world stage.
One might think that the next step for a beaver of such global fame would be, say, the Macy's Thanksgiving Day parade. Instead, you can set it up in your own backyard. However, what the story leaves out is that you'll also have to drop $100,000 for a giant inflatable dam.