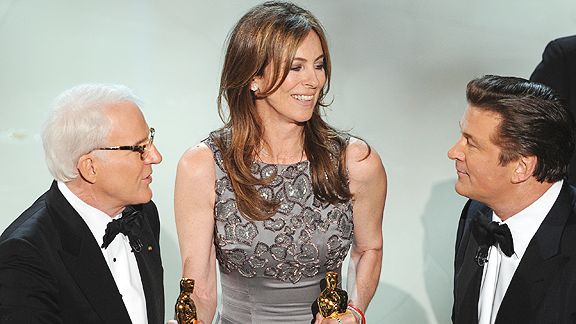 Gabriel Bouys/AFP/Getty Images"The Hurt Locker" director Kathryn Bigelow was the biggest star of Sunday night.
I found myself rooting against James Cameron and "Avatar" on Sunday night as much as I've ever rooted against George Steinbrenner and the New York Yankees.
"Avatar" was the Yankees of the Academy Awards -- the bloated movie that had a bigger budget than everyone else, the movie that had more revenue than anyone else, and the movie that was ruining the game for everyone else. But at least the Yankees have Derek Jeter.
While filling out my Oscar ballot, it struck me that "Avatar" was not nominated for any acting or writing awards. Aside from Best Director and Best Picture -- two awards that often go hand in hand -- pretty much all its nominations were for special effects, sound and editing. What does it say about a movie when neither the acting nor the story is considered noteworthy? "Avatar" is a video game, not a movie -- and if it's the future of motion pictures, then I'll stick to watching "Casablanca" on DVD.
That's why I was happy to see "The Hurt Locker" win. It was a victory for writing and acting over bloated special effects (especially special effects that look fake). It was the equivalent of the Minnesota Twins beating the Yankees in an ALCS.
I was also happy to see Jeff Bridges finally win an Oscar (for Best Actor). Bridges had been the Edgar Martinez of movies -- likable, well-respected and talented, but always overshadowed by his more famous teammates (Junior, A-Rod, the Big Unit and Ichiro). As for Sandra Bullock beating Meryl Streep for Best Actress? That's the equivalent of David Eckstein taking Mariano Rivera deep in a Game 7.