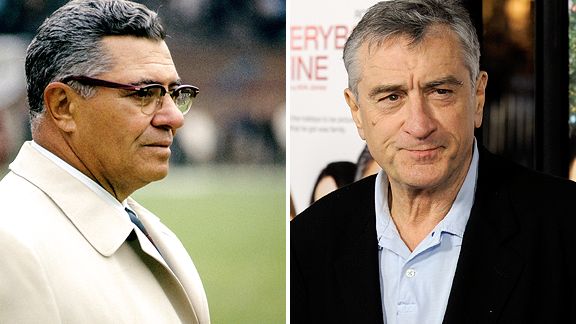 US Presswire/AP PhotoLegendary coach Vince Lombardi will be portrayed by Robert De Niro.
Academy Award-winning actor Robert De Niro is attached to play legendary coach Vince Lombardi in the theatrical motion picture "Lombardi" being developed by ESPN Films, Andell Entertainment and the NFL. Additionally, Academy Award-winning screenwriter Eric Roth (Forrest Gump, The Good Shepherd) has come on board the project, which will chronicle Lombardi during the years he transformed the Green Bay Packers from the worst team in the National Football League into five-time NFL champions.
"Having an icon portray an icon on film is amazing," said Ron Semiao, senior vice president of ESPN Films, "and with a writer as talented as Eric working on the script, the results could be magical for NFL fans."
Current plans call for the film's release on the weekend between the AFC and NFC Conference Championships and the Super Bowl in 2012.
"There are few actors who could accurately portray the fire, passion and grit of Lombardi," said Charles Coplin, NFL's vice president of programming, "and we're thrilled to have Robert De Niro on our team."
The story's narrative arc spans from 1959 when Lombardi was given his first opportunity to be an NFL head coach, taking over the small-town Packers, then the worst team in the NFL, and runs through his transformation of a group of young, talented but undisciplined losers into five-time NFL champions. Also, the story highlights the long-standing rivalry that existed between Lombardi and legendary Dallas Cowboys coach Tom Landry, both of whom were assistants on the New York Giants team that lost the 1958 NFL Championship game.