At 38 and generously listed at 5 feet 11, Billy Wagner is not an intimidating presence on the field -- until his left-arm unleashes a fastball that hits the upper-90s. The truth is though, that Wagner used to be much smaller and right-handed. As it stands, only one out of every 30,000 or so kids who play baseball growing up get to play pro. Wagner, now with the Atlanta Braves after a successful partial season with the Red Sox despite coming off Tommy John surgery, had a far more unlikely path than most to become one of the better closers of all time (he is sixth in saves with 385 -- just five less than Hall of Famer Dennis Eckersley).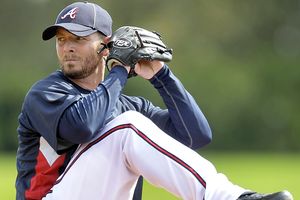 AP Photo/Rob CarrAtlanta Braves pitcher Billy Wagner started throwing left-handed after breaking his arm.
Billy Wagner joined Mayhem in the AM on 790 the Zone in Atlanta to discuss his journey, his health and his role in the clubhouse.
"When I was younger, I lived with my grandparents and I would come home and play hat football. We couldn't afford a football so we played with a hat. And a guy from across the street named Chip comes in," Wagner said. "He was about 2-3 years older than me, and we were playing around and he fell on my right arm and broke my right arm. So I was in my cast. And as a kid, you want to play, so I played left-handed. And then I get my cast off my right arm. He comes over and breaks it again. He falls on me and breaks it playing football. Having a cast on your right arm for that long, you figure things out a little bit if you want to play and compete with the older kids. So I ended up being left-handed."
• Click here for full transcript of highlights from the interview.