PredictionMachine.com is a Web site that plays each game 50,000 times before it's actually played. For the NCAA tournament, it is not just providing predictions for each of the first-round games but is playing through the entire field.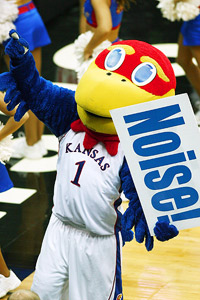 Tim Umphrey/Getty ImagesKansas is the NCAA tourney's top seed, and PredictionMachine.com's favorite, as well.
In the previous six seasons, this methodology has accurately forecast the eventual national champion five times. For the 2010 NCAA tournament, PredictionMachine.com likes Kansas to win the title, yet it happens just 15.7 percent of the time -- leaving the field pretty open for teams such as Syracuse (10.6), Baylor (10.4), Duke (10.2), Ohio State (9.9) and Kentucky (8.0).
PredictionMachine.com's Paul Bessire joined Howard Eskin on WIP in Philadelphia to talk about potential first-round upsets, each individual region and the most likely national champion.
Paul Bessire on first-round upsets:
"The biggest one would be Old Dominion, which is an 11-seed, beating Notre Dame, and they beat them 65 percent of the time, which is a pretty significant upset. Notre Dame appears to be grossly overseeded. Another one would be Georgia Tech, which we have winning as a 10 over a 7. Missouri wins over Clemson, and Florida State over Gonzaga. (Wake Forest is also favored to beat Texas 52.4 percent.) Aside from the Old Dominion game, none of the other ones are that dramatic of upsets."
• Click here for a transcript of highlights from the interview.