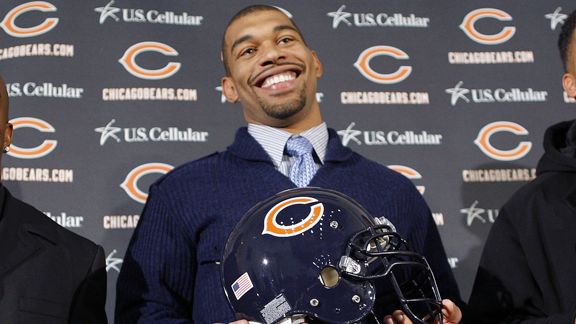 AP Photo/Jim Prisching
After signing a six-year, $91.5 million deal with the Chicago Bears, Julius Peppers is a very rich man.
Now it's time to find out how much of that Jarron Gilbert gets.
Gilbert had the distinction of wearing No. 90 with the Bears last season, but he decided to give it up to Peppers, who wore that number for his entire eight-year NFL career with the Panthers. As is the custom in professional sports, Peppers is now trying to decide how to show his appreciation to the youngster.
"[Gilbert] told me not to even worry about it, but I'm going to hook him up anyway," Peppers said. "What am I going to get him? I don't know yet. I'm still trying to decide, think about what's going to be good. I didn't even meet him yet. I'm going to meet him and see what he likes and then try to hook him up with something.''
If history has taught us anything about jersey transactions, Gilbert could be one very lucky man.
• Clinton Portis paid Ifeanyi Ohalete $38,000 for No. 26 upon joining the Redskins.
• Rickey Henderson gave Turner Ward $25,000 for No. 24 when he joined the Blue Jays.
• Lee Evans of the Buffalo Bills paid Mark Campbell $20,000 for No. 83.
• Eli Manning paid for a family vacation for Jeff Feagles in exchange for No. 10 when he joined the Giants.
• Feagles was again on the receiving end when he traded his new number, 17, to Plaxico Burress for a new kitchen.
• Roger Clemens gave Carlos Delgado a Rolex valued at roughly $15,000 in exchange for the No. 21 when he joined the Blue Jays.
With Peppers guaranteed $42 million, let's hope that Gilbert gets a little more out of this deal than John Kruk, who traded his number to Mitch Williams for just two cases of Budweiser.