Nick Valvano wasn't there when his brother, Jim, made his famous speech at the 1993 ESPY Awards. Nick had a business trip and Jim told him not to reschedule. This was just the first show. He didn't even know what he was going to say.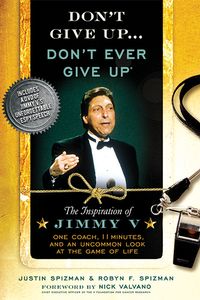 SourcebooksJim Valvano's famous speech has become a key part to his legacy.
"So I went to Chicago. I went to dinner. I didn't see the speech," Nick said. "I got a ton of messages right after saying he gave this unbelievable speech. So how bad a decision is that?"
The messages have been pouring in now for 17 years. Nick loves hearing how Jim has touched other people's lives. But he was hesitant when Justin Spizman called him about doing a book on the speech. Enough books had been written about Jim, Nick said. Justin's idea was different, though. He had found a set of daily life lessons in Jimmy V's words and wanted to share them with the world. After initially declining to help, Nick came around as he reflected further on his brother's legacy.
With the help of his mother, Robyn, a best-selling author, Justin wrote "Don't Give Up ... Don't Ever Give Up: The Inspiration of Jimmy V -- The Coach Who Moved a Nation."
Nick Valvano penned the forward. It wasn't easy.
"This is such an emotional thing with my brother. It took me a long time to think about what I could possibly say. And I just kind of decided to tell about our relationship and who Jim was," Nick said. "He was always so much more than just a coach and a funny guy."
Jim was Nick's kid brother more than anything else. Their relationship was loving, but not without some fighting and plenty of good-natured ribbing. Those are the memories that Nick holds dearest.
Every time he hit an amazing shot on the golf course, Nick would turn to his brother and ask, "Why can't I do that all the time?"
Jim would always reply, "Because you're not any good."
Nick can't help but laugh retelling that. So much in his life has changed since Jim lost his battle with cancer in 1993. He says you can't help but live differently. Most importantly, like the lessons in this new book teach, Nick has learned to live each day to the fullest.