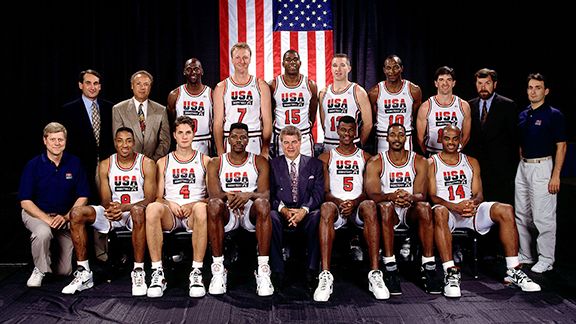 Andrew D. Bernstein/NBAE/Getty ImagesChristian Laettner and his 1992 Dream Team were elected into basketball's Hall of Fame.
Christian Laettner had quite a day on Monday. Not only did the greatest basketball player in Duke history get to watch his alma mater win its fourth national championship, but Laettner was finally elected to the Naismith Memorial Basketball Hall of Fame -- a glaring omission that was righted when the entire 1992 Dream Team was selected for induction.
Without the election of the entire Dream Team roster, the individual members of that historic squad probably would not have all made the Hall of Fame. Sure, Michael Jordan, Larry Bird, Patrick Ewing, Clyde Drexler, Charles Barkley, David Robinson, John Stockton and Magic Johnson were already in. And Karl Malone and Scottie Pippen were elected on Monday. But that still left two members on the outside looking in: Laettner and Chris Mullin.
And really, what would the history of the game be without Laettner, a one-time All-Star, and Mullin, who once led the league in free-throw percentage?
Electing the entire Dream Team caulked a glaring fissure in the museum's historical canvas. Well done.
Laettner defied the odds by gaining admission to the Naismith Hall of Fame. According to his page on basketball-reference.com, the Buffalo, N.Y., native had a Hall of Fame probability of 0.001, which ranked him 444th on the list -- worse than Mullin (0.101, 144th) but considerably better than Benoit Benjamin (0.000, 597th).
Laettner won both the 1992 Naismith and Wooden awards as college's premier player, and led Duke to back-to-back national championships -- achievements that helped him gain the lone collegiate spot on the original Dream Team.
On the basis of his collegiate accomplishments, Laettner was also recently elected to the National Collegiate Basketball Hall of Fame -- an honor not yet bestowed upon certain Dream Team members including Jordan and Ewing.
One of these days they might share the dual honor of being elected to both halls.