For Brie Bella, helping demolish a dilapidated home on ABC's "Extreme Makeover: Home Edition" this Sunday turned out to be a stress reliever.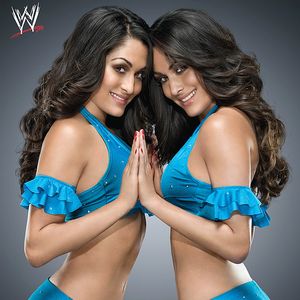 Courtesy of World Wrestling Entertainment, Inc. Brie and Nikki Bella, along with Jeff Gordon, helped ABC's "Extreme Makeover: Home Edition".
"I was using this sledgehammer and punching all these holes in the wall," said Bella, who is 5 foot 6 and about 125 pounds. "I was in charge of taking apart the kitchen. It was really fun. And it was therapeutic."
Bella isn't a movie star or a singer. She's a WWE superstar, who wrestles with her twin Nikki as the Bella Twins.
The Bellas joined NASCAR driver Jeff Gordon, along with the Makeover crew in Loris, S.C., in tearing apart a house owned by Amanda and Derrick Suggs.
The young couple had just started their own family when they adopted Amanda's younger siblings to prevent them from being separated in foster care. When they got married, they moved into the home Derrick inherited from his grandfather. Built by his grandfather in 1953, the home came with a long list of repairs: a leaking roof, outdated and exposed electrical wiring, rotting foundation, and broken and cracked asbestos siding on the outside of the house.
"When I looked at their house, I wanted to cry," Brie Bella said. "I can't believe they could raise a family with almost nothing. Amanda is a diva in her own right."
Bella now wants to do more charity work and continue wrestling with the WWE.
"I want to continue to give something back," she said. "And we'll stay in wrestling until they get sick of us!"