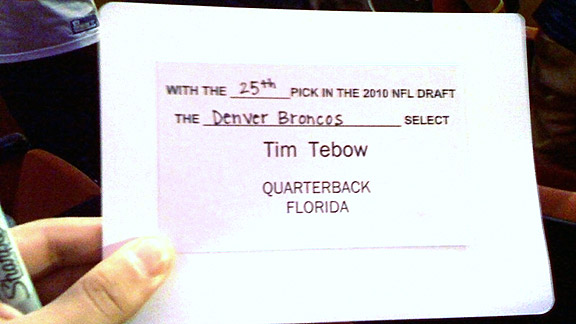 Beckett Media Tim Tebow's name was read from this card on Thursday night.
I've gone on record countless times pledging my undying love for the Denver Broncos, so I wasn't really surprised when the texts started rolling in hotly and heavily Thursday night when NFL commissioner Roger Goodell announced that the Broncos had just made the selection of the draft in my heavily biased opinion, nabbing legendary Florida QB Tim Tebow with the 25th overall pick.
Amid the euphoria and giddiness I felt reading all of the smart-phone correspondence (I can only imagine what Tebow himself must've been going through), one text in particular stood out above the others. It was the one from Carlos Torrez, an executive with football card manufacturer Panini America, that had a picture attached.
Captured in the image was a suddenly historic NFL card, a true one-of-a-kind keepsake that I'll never own: The postcard Commissioner Goodell read announcing the Broncos' surprising selection of Tebow.
I sent Torrez a return text asking whether he'd be interested in trading it to me. Alas, he said it belonged to some lucky kid sitting next to him inside Radio City Music Hall. I pleaded with Torrez to ask the kid what he wanted for it. His response: "A million dollars. Seriously, $1 million."
Wonder if the kid will put me on a payment plan …