Tom Gamboa, the manager of the Palm Springs Power and a 40-year veteran of professional baseball, is no stranger to unruly fan behavior. He was the first-base coach for the Kansas City Royals when two fans ran onto the field in Chicago at Comiskey Park and attacked him in 2002. Gamboa joined Into The Night with Tony Bruno late on Tuesday night to talk about fans running out onto the field on consecutive nights in Philadelphia, how he thinks there needs to be some sort of mandatory incarceration for fans who do this in order to set a tougher example, and about the father and son who attacked him.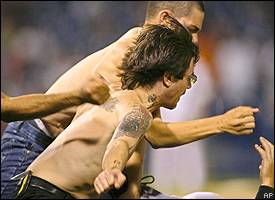 Tom Gamboa was just doing his job when he was hit by the father-son duo.
On what he thinks of the crazy occurrences at Citizens Bank Park in Philadelphia the past two nights:
"Ironically, I'm on a golf vacation and didn't know anything about this. I hadn't seen TV or heard radio until at the golf course today, a sports radio guy came up and he filled me in on what happened. And then only just prior to your show did your producer tell me what happened tonight, and I just cringed when I heard that because that is so reminiscent of my situation -- when I was in Chicago in '02, the next time we went to Chicago in April of '03, there were tons of security people, and I said to the security director, what is all this for? And they said well, because your team is back in town, and the last time you were here, the incident occurred. And I laughed and said gee, did they really think lightning was going to strike twice? And there were actually three incidents in one game of people copycatting, and the third one was where the guy tried to tackle the first-base umpire. So it's a shame, I just wish the fans would understand their only place is in the stands, and never any reason on the field of play to take away from the enjoyment of what everyone is there for, which is the competition on the field. But it just seems like we're in a society where people are looking for any type of what they think is fame or infamy at any cost. And once somebody does it, then you got people jumping on the bandwagon trying to be copycats. It's really a shame."
On the infamous incident involving a father and son who brutally attacked him in Chicago while he was coaching with the Kansas City Royals:
"My only question in court was why me? The thing that I got was, 'We were on drugs when we got to the park, then we drank beer throughout the game, and then we made a decision to get attention so when we got on the field, you were the closest one to us and your back was turned, so you were an easy target.' So basically I was just at the right place doing my job at the wrong time with these two wackos. But having to coach third base with the Cubs prior to my tenure with the Royals, I can tell you, I loved going into Philadelphia. Like Chicago, they are die-hard fans that support their team, and there's an electricity in the ballpark there. I would hate to see, like I said about Chicago, I would hate to see Philly get a bad rap because of a couple of stupid people doing a bad act, because it doesn't reflect, to me, the city or the sports fans that they have. And I hope that gets across as this story goes around."
• Click here for a full transcript of highlights from the interview