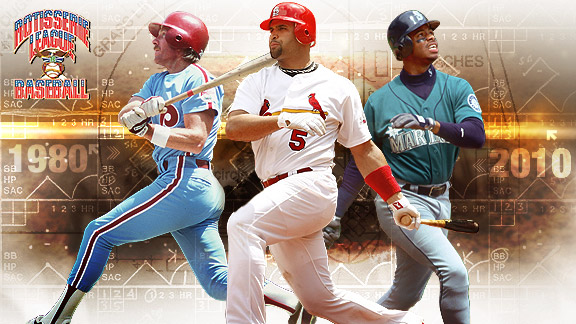 ESPN.com IllustrationWho knew fantasy baseball winnings are illegal in Louisiana?
In Louisiana, the difference between "gaming" and "gambling" cost a man his coveted T-shirt.
David Winkler thought he had it made. In summer 2009, he participated in a head-to-head ESPN fantasy baseball league and proved to be one of the top general managers. Under the pseudonym "Johnny Drama" -- a tip of the cap to the "Entourage" character on HBO -- he finished second. He thought he would soon strut around the streets of Shreveport, La., in the spoils of his skill, an ESPN T-shirt. He thought he had earned his reward.
But a problem: His state is one of nine where residents can't claim fantasy sports prizes. The T-shirt? Eh, sorry, not happening.
"It was an eye-opening experience to realize that the law was very unjust," he said.
Winkler and childhood friend Thomas Carmody, a Republican state representative from Shreveport, are trying to define fantasy sports as "gaming" in the Louisiana Constitution. If made into law, House Bill 316 would authorize fantasy sports as a legitimate form of gaming and allow the state's general managers to collect future winnings.
Gambling is illegal in Louisiana, but residents can buy lottery tickets and claim green at horse tracks and casinos because those practices are considered gaming. People such as Winkler can legally participate in fantasy sports but are not allowed to collect prizes.
"It has never been changed," Carmody said. "When we permitted gaming, there was not the Internet as we know it today. Therefore, technology has changed.
"Our constitution strictly prohibits gambling. Unless it's restyled and codified as gaming, it's not permitted to be legal."
The bill passed through a House committee in late April and will be debated in the Louisiana House of Representatives early next week, Carmody said. From there, an appearance before a Senate committee would be required before debate in the Louisiana Senate.
Gov. Bobby Jindal has to sign the bill into law -- something that Carmody is skeptical about happening.
For Winkler, attention to what caused his fantasy slight is overdue. The difference between "gaming" and "gambling" in Louisiana is huge -- large enough to make him turn to the political arena to push for a larger prize.
"It's a tough fight. It's tougher than you might think for something that seems so innocuous and obviously wrong."