LOS ANGELES -- It was fitting that the familiar 1937 tune "Hooray for Hollywood" blared at the famous intersection of Hollywood and Vine, minutes before ESPN anchor Chris Berman was presented with a star on the Hollywood Walk of Fame.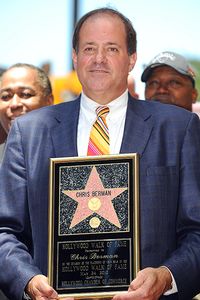 Gabriel Bouys/AFP/Getty ImagesChris Berman was honored on Monday with a star on Hollywood's Walk of Fame.
The six-time national sportscaster of the year was honored Monday afternoon, a toast to his more than 30 years of contribution to sports television. Berman was one of 28 names to be honored this year by the Hollywood Chamber of Commerce. Others who will get stars this year include Russell Crowe, director James Cameron and actor Mark Wahlberg.
Berman was celebrated by ESPN colleagues and former NFL players, including Steve Young, Neil Everett, Marcellus Wiley, Keyshawn Johnson, John Saunders and Shelley Smith, who all hooped, hollered and whistled as he made his way up the stage to accept his star.
"He has been the face of ESPN for three decades. The successes that we have had all tied Boom," Tom Jackson said, calling his friend and colleague by his nickname. "When you think about everything that we have been able to accomplish in football, Boom has done every show: Super Bowls, 'Monday Night Football,' 'Sunday Night Football,' he has really been the catalyst for the success that we have had over the years."
Jackson added: "He is the best highlight man to live."
Berman joked about the idea of his getting a star.
"You gotta be kidding me! The only question I have is what indeed are we doing here? I've gotten to look at the names of some of my new neighbors: Bette Davis. Kirk Douglas. Gary Cooper. Billy Joel. Milton Berle. Sammy Davis Jr. Katherine Hepburn. So if these are my neighbors, what am I doing here? That's my big question," Berman said to the crowd. "Then I look over here and see I'm in front of Dillon's Irish Pub. Now I know what I'm doing here. I get it."