Rocker Vince Neil spent more than 20 years with Motley Crue.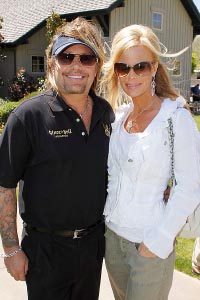 Michael Tran/FilmMagicVince Neil has been married to Lia Neil for 5 years.
He parlayed that successful gig into owning several bars, strip clubs, tattoo parlors, a tequila business, a restaurant and this fall will publish his autobiography.
But did he know he started out as a surfer?
"Yes, I was on the surf team in high school. I'm serious," said Neil, who grew up in Southern California and attended Royal Oak High School before joining the rock band in 1981. "I played other sports and even raced cars. But I started out on the surf team."
About 10 years ago while in Australia, Neil said, he got back on the board for the first time since he was a teen-ager.
"They had these surfboards for rent at Surfers Paradise beach, and I figured that it'd be like riding a bike," Neil said. "It definitely wasn't. It almost killed me."
Neil was smart to get into music. He said he got the job as lead singer of Motley Crue because "I had long hair." Now 30 years later, he will be releasing his first solo record in over 14 years on June 22 called "Tattoos and Tequila." The single and music video, "Tattoos and Tequila," were released on vinceneil.net as a free download in February. The album features two original songs and 10 covers.
"For 2010, I wanted to devote to myself," said Neil, who was on his way to promote his club in West Palm Beach, Fla. "I wanted to put out this party album, music I like listening to. It's going to be a great summer record."