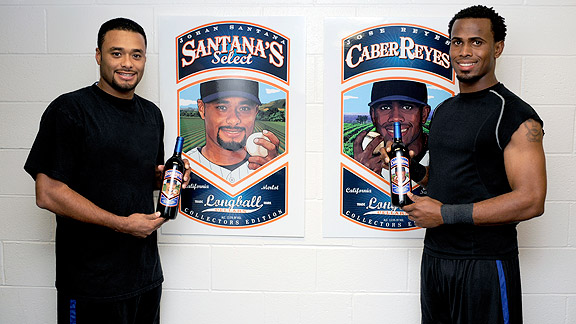 Courtesy of Charity HopJohan Santana and Jose Reyes combine their vintage performances with a vintage of their own.
Jose Reyes may be just 26, but he already has a place in Cooperstown. It's right next to the Omar Vizquel salsa.
Sure, every player's eventual goal is to be immortalized with a plaque, but Reyes thinks it's pretty neat to have his CaberReyes Cabernet on display for the time being.
"It's a great honor to be in the Hall of Fame with our wine," said Reyes, whose vintage is part of the íViva Baseball! exhibit. "Not everybody has a chance to have something in the Hall of Fame. You don't expect to have your face on anything, so when you have your face on a bottle of wine, it's unbelievable."
That's a common reaction Reyes gets when serving CaberReyes to his guests.
"When people come over to my house, I'll ask, 'Do you want some wine?'" Reyes said. "They'll say they like it, and I tell them, 'This is my wine. It has my face on the bottle.' People don't believe it. I have to go get the bottle and show it to them."
And while there's definitely the cool factor that comes with being able to serve your own reserve label at dinner parties, what attracted Reyes to this endeavor was the ability to make a lot of money -- for charity.
The Mets star is one of 25 major league players, past and present, who have teamed with Charity Wines. Each player donates his entire proceeds from the product's sales to the foundation of his choice.