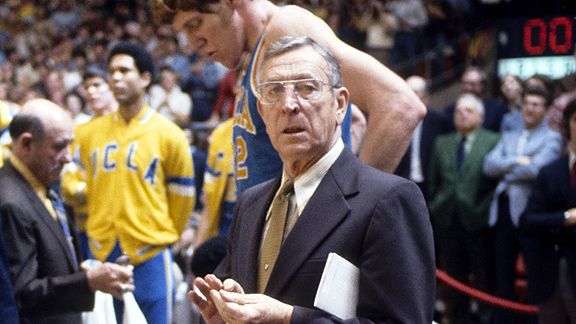 Malcolm Emmons/US PresswireJohn Wooden, early in his career, worked two jobs just to have some money.
A passage buried near the bottom of John Wooden's obituary stands out: "He never made more than $35,000 in a season, and early in his career he worked two jobs to make ends meet. 'My first four years at UCLA, I worked in the mornings at a dairy from six to noon then I'd come into UCLA,' he told The Associated Press in 1995. 'Why did I do it? Because I needed the money. I was a dispatcher of trucks in the San Fernando Valley and was a troubleshooter. After all the trucks made their deliveries and came back, I would call in the next day's orders, sweep out the place and head over the hill to UCLA.'"
That might be Wooden's greatest legacy. Just imagine such a thing today. John Calipari greeting customers at Wal-Mart before heading into the gym. "Welcome to Wal-Mart. Let me point out some of the special deals we're offering today to 6-foot-8 high school seniors who plan to attend Kentucky?" Jim Calhoun selling Lady Kenmore's at Sears. "No, that's the final price. I'm not taking one dime on my commission." Rick Pitino working the late shift at a restaurant "Let me just clear off this table first …"
Wooden was famous for his Pyramid of Success, which includes such elements as Industriousness, Friendship, Loyalty, Poise and Intentness. The modern Pyramid of Success for too many modern coaches would have Money at the top; Guaranteed Contract and Tournament Bonus in the second level; Attendance Bonus, Shoe Contract and TV-Radio Deal in the third level; and Personal Car, Country Club Membership, Private Luxury Suite and, of course, $1.5 Million Buyout Clause, at the base.
I'm not suggesting coaches should work two jobs to pay their bills or even limit themselves to $150,000 salaries (a rough modern equivalent for Wooden's top salary) but in an era when so many universities are slashing budgets, it would be refreshing to see college coaches emulate Wooden just a bit. In a show of solidarity with their cash-strapped schools, perhaps they could take a small paycut to keep one extra professor on campus or provide scholarship money for a couple students. Better yet, donate their shoe company money to the university where it rightfully belongs. Coaches don't even wear the shoes -- the student-athletes do -- so would it kill them to give back even a portion of that money?
Such modest proposals would be a fitting way to both honor Wooden and demonstrate that the universities are more than just revenue sources to coaches. Unfortunately, I also realize I might as well be yelling this through a rolled-up program in the middle of the forest.