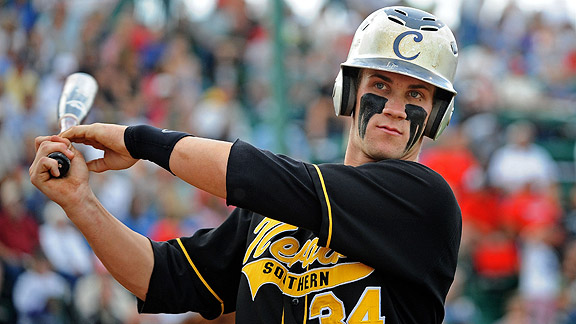 Mark J. Rebilas/US PresswireWonder whether the eye black will catch on again?
With the MLB draft set to commence on Monday, everyone in America is about to get acquainted with super-prospect Bryce Harper. And whatever else you can say about him, one thing is exceedingly clear: The kid likes his eye black.
Harper's smudgified cheeks place him somewhere between John Randle and Chris Hovan in the war paint pantheon (although Hovan was more of a contender in his college days). But if we restrict our analysis the baseball diamond, where eye black protocol tends to be more conservative, Harper is clearly the king. It remains to be seen whether he'll maintain this style as a professional, or if the hype surrounding him will lead to a new generation of war-painted ballplayers, but gazillion dollar contracts do tend to give trends a bit more momentum.
While Harper may lead to a loosening of baseball's eye black standards, things are slated to get more traditional on the gridiron, at least at the college level. That's because the NCAA has banned eye black messages for the coming season, a restriction that's already being referred to as "the Tim Tebow rule" (although it could just as easily be named after Reggie Bush, who jump-started the customized eye black look in 2005). Of course, Tebow would have had to stop inscribing Bible verses on his eye black this fall anyway, because such messages have always been verboten in the NFL. But if he needs tips on how to craft a distinctive look without any text, he can always call Harper for advice.