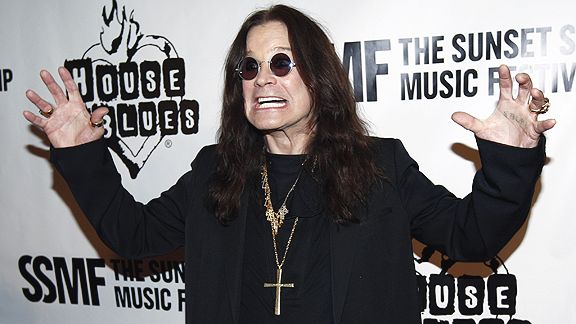 AP Photo/Matt SaylesWho else would lead a record-breaking scream than the Prince of Darkness?
It's a painful way to try to cure cancer, but there is method to Ozzy and Sharon Osbourne's madness.
Friday at Dodger Stadium, the Osbournes take on cancer in their own unique fashion -- while surely catching some fans off-guard -- by trying to lead the Chavez Ravine crowd into the Guiness Book of World Records for the all-time loudest and longest scream.
Oh, the scream will also help promote Ozzy's upcoming June 22 album release, titled (this is going to shock you) "Scream," with first single (no, really) "Let Me Hear You Scream," but that's not important right now.
The stunt takes place as part of the Dodgers third-annual ThinkCure! Weekend, one of the non-baseball endeavors the team's beleaguered McCourt ownership can still take pride in (unlike, say, your neighborhood Russian energy healer). In the middle of the fifth inning of the Dodgers-Angels game, Ozzy will take the field and lead the crowd in to this giant shriek, with its length and audio level measured in hopes of breaking the world record. Sharon, a cancer survivor, has also recorded a message that will be shown during the game.
Happily, the buzz leading up to the Scream has been loud enough to draw additional attention to ThinkCure!, which accelerates collaborative research to cure cancers. The weekend also includes a telethon/radiothon involving the Dodgers' broadcasting partners, along with a charity auction featuring memorabilia and special activities. More information can be found at thinkcure.org.
In the meantime, Dodger fans should grab their wallets, their earplugs and their throat lozenges and get ready to shout down cancer. Hopefully, they'll make a nice dent and still be able to hear and sing "Take Me Out to the Ballgame" with the rather un-Osbournesque Dodger Stadium organist Nancy Bea Hefley two innings later.