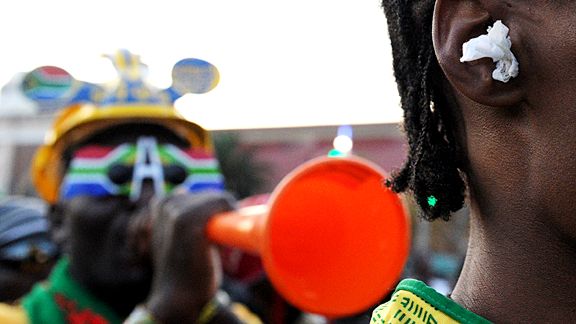 Alexander Joe/AFP/Getty ImagesA fan uses paper ear plugs to block the sound a vuvuzela at the World Cup in Johannesburg.
NELSPRUIT, South Africa -- As it turns out, the controversial vuvuzela -- declared a public enemy by some World Cup players and television viewers -- does have a purpose other than giving people a migraine.
The horns, which fans bleat constantly throughout the World Cup matches, have spurred a temporary gold mine for a pair of ear plug companies.
Ear Plugs Online and Sheppard Medical, the biggest earplug supplier in Africa, have both reported an enormous increase in sales because of the proliferation of the plastic horns at the World Cup. Ear Plugs Online said its sales have jumped a whopping 121 percent and Sheppard Medical has sold more than 400,000 ear plugs since the World Cup began.
So bleat that, vuvuzela haters.
The plastic horns have become a major subplot of the World Cup. I'm for it, but several players, including star Cristiano Ronaldo, have complained that the vuvulzelas are a nuisance. Many television viewers support Ronaldo's viewpoint, so much so that Host Broadcast Services, the company that provides the broadcast feed for the World Cup, said Tuesday it has doubled its audio filters to reduce the vuvuzelas' bee-like buzz.
But the whiners and complainers are finding the vuvuzela isn't easy to defeat. Although some thought was given to banning the horns, an African tradition at soccer matches, FIFA president Sepp Blatter has since said he supported the use of vuvuzelas. A spokesperson for the Premier League told ESPN.com that nothing in their rules prevented fans from using vuvuzelas. In other words, he's encouraging English fans to leave South Africa with as many horns as possible.
Also, iPhone users can even download the vuvuzela application. And knowing Apple, they'll also create a Tylenol app for dissenters. And you can annoy your coworkers by playing this.
But like it or not, the vuvuzela is gathering supporters, one bleat at a time.