With the NBA Finals coming down to Game 7, it's probably no surprise which team radio personality/television host/comedian/actor Adam Carolla wants to win.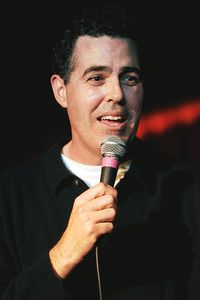 Kevin Winter/Getty ImagesAdam Carolla has a rooting interest in Thursday's NBA Finals.
Yes, he grew up in Los Angeles. Yes, he went to North Hollywood High School. And yes he even spent some time at Los Angeles Valley College.
But how about this little nugget: his middle name is Lakers.
Carolla, 46, was born in Philadelphia and his parents didn't give him a middle name. So when Carolla got his drivers license as a teen he wrote "Adam Lakers Carolla" as a joke. And it's still on the license.
Carolla chatted a few minutes with Page 2 talking about his latest venture, promoting "Everyman Challenges" by Klondike.
"Let's be honest, they couldn't afford Jimmy Kimmel so they came to me," Carolla said. "I'm like John Q. Public. I represent what every guy wants and needs."
The "Everyman Challenge" wants people to pack as much stuff into their car and send the video to the Klondike Challenges website, and the winner could win a new SUV.
"I already know mine is better than yours," Carolla said. "Let's be honest: Surely, you're not as clever as moi."
Adam, did you ever get beat up as a kid?
"How dare you imply that! I was a jock in high school," said Carolla, who really was the captain of his football team. "But I did get beat up after a softball tournament in seventh grade. We beat them in softball and this heavyset girl beat me in fisticuffs. I kid you not."