The road to Joey Chestnut's fourth straight Nathan's Famous Fourth of July Hot Dog Eating Contest title may have gotten a little easier Monday.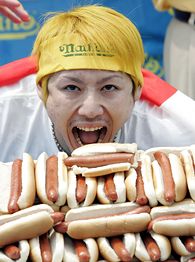 AP Photo/Seth WenigTakeru Kobayashi's all grins after capturing his sixth mustard belt at the Coney Island contest in 2006.
Chestnut's biggest rival, six-time champ Takeru Kobayashi, is "currently not scheduled to compete" in the competition, according to Richard Shea, the president of Major League Eating.
"In recent weeks, Major League Eating has sought to arrive at an agreement with Kobayashi, but contract negotiations have reached an impasse," Shea said in a statement. "MLE remains hopeful that Kobayashi, who won the contest from 2001 to 2006, will decide to compete this July 4th in Coney Island ..."
Chestnut, a 26-year-old Californian, broke his own world record with 68 hot dogs to win last year's competition. Two years ago, he beat Kobayashi in a five-dog eat-off after the pair tied with 59 dogs in the regulation 10 minutes.
Kobayashi, now 32, ate 64½ hot dogs in last year's competition.
Page 2 wonders if a deal can be reached at the last minute to secure Kobayashi's participation at the event he dominated for six consecutive years. After all, we would relish the chance to see Kobayashi and Chestnut battle boca a boca in another chapter of their storied rivalry.