David Kordalski is a Cleveland native who understands the city's psyche -- particularly its pained sports history.
So when Kordalski's team at the Cleveland Plain Dealer brought him their proposal for Friday's front page, he didn't blink.
The entirety of Page 1 of a major American newspaper featured just seven words: "Gone. 7 years in Cleveland. No rings."
"We have our fingers kind of on the pulse of what the majority of the fans feel here," said Kordalski, the Plain Dealer's visuals editor.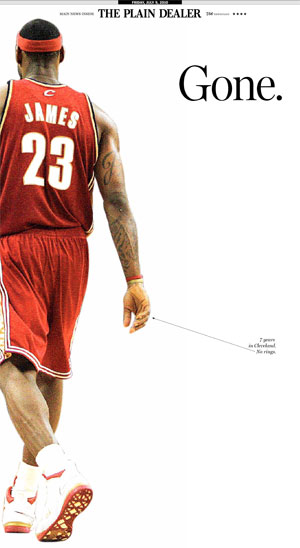 Cleveland Plain Dealer
And he would understand. As a youngster, he was in the stands for Cleveland's last major title, the 1964 NFL Championship Game, where the Browns beat the Baltimore Colts, 27-0.
The cover has been a huge topic of discussion in social media and sparked the most popular story of the day on USA Today's website. Most feedback has been positive, but there has been criticism that it took too much of an editorial view, which isn't traditionally found in regular news sections.
"If you look at the wording on it, there's not a thing on it that's not true," Kordalski said. "He's gone. True. He was here seven years. True. No rings? True."
Kordalski said James promised to bring a championship to Cleveland, "and now he's walked away from it. That's not necessarily an opinion, but what we have there is fact."
The designers who came up with the final product, Emmet Smith and Michael Tribble, said they felt the cover was the right approach as it became apparent not just that James would leave, but how he would leave.
Cleveland fans, Kordalski said, understood that James might leave. But it was the way James announced his decision that hurt the most. Kordalski said Cleveland fans are used to being the butt of jokes, but there was pride that, as he said, "the best basketball player in the world" was from Akron and played for the Cavs. "He didn't act like, dare I say, one of us, in the way that he basically jilted us on national television."
"In the morning, I knew we'd really hit our mark," Smith said, after spending a night out with spurned Cavs fans and hearing more chatter over breakfast.
Reader reaction has been overwhelmingly positive. The staffers said the publisher's office has been inundated with calls, nearly all praising the cover.
"I think it speaks to the power of newspapers when they take the time and make the commitment to be interesting and not put it on autopilot," Smith said. "I like to think we didn't do that yesterday."