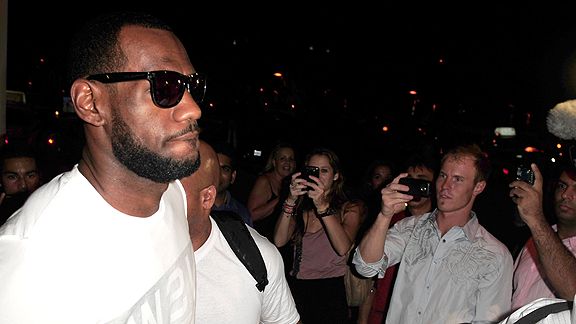 Gustavo Caballero/Getty ImagesLeBron James might seem like a villain, but he isn't. He doesn't embrace that role.
Beginning with LeBron James' perceived quitting, through the outrageous free agency process and culminating with the hometown hero deserting the devoted fans, LeBron has morphed into somewhat of a national villain. But here's the thing -- that's going to fade.
Why? Because to be a true, authentic villain, you have to embrace the role. Here's our top 5:
5. Isiah Thomas: He was the ring leader of Detroit's Bad Boys squads and a rumored Michael Jordan "freeze-out" in his first All Star game.
4. Larry Bird: He was surly, feisty and arrogant; the arch-enemy in the Lakers-Celtics rivalry that polarized NBA fans. Didn't help that his rival was the always-cheesing Magic Johnson. Did Bird ever smile? Did he ever not cut your heart out with a big shot?
3. Michael Jordan: Folks hate winners. Six championships in eight years and fawning press will make you a villain. And it didn't help that after he and the Bulls ran through the league, you had to see summer footage of him on golf courses, rocking backward Kangols, smoking cigars.
2. Reggie Miller: Anytime you are as despised in the country's biggest metropolis as Regg', you're liable to break the hate-meter. New Yorkers and fans, in general, loathed Miller and he loved it.
1. Kobe Bryant: The difference between Kobe and MJ is that MJ had a ton of fans that weren't even Bulls fans -- they rooted for their squad and for MJ. Kobe has a glut of fans, but they are practically all Lakers fans. Chances are, if you're not a Lakers fan, you dislike Kobe.
LeBron will never catch up.