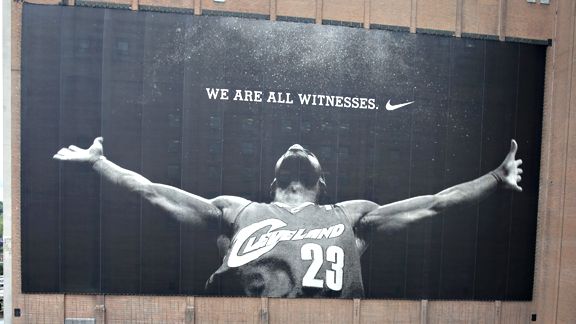 AP Photo/Amy SancettaWorkers will begin to tear down this LeBron James banner in Cleveland.
Cleveland's bitterness continues to flow. On Saturday, Nike began dismantling a 10-story mural of LeBron James, who went from hometown hero to traitor in the span of 30 minutes when he announced on national television that he was leaving the Cavaliers for Miami.
Vitriol has been seeping out of Cleveland ever since. Fans burned LeBron All-Star jerseys; bars are offering free beers to patrons who turn in LeBron gear; and Clevelanders have lauded the Cavs' owner, who is dishing out his own brand of vengeance.
As if owner Dan Gilbert didn't make himself clear enough with his scathing King James traitor letter, he continued to heap on disgust with this little gem.
Gilbert is not only the owner of the Cavs, but is also a key investor in the company that makes Fatheads, which retail for $99.99. Unless, of course, it's a James Fathead you're after. That's now $17.41, in honor of the year that American's best-known traitor, Benedict Arnold, was born.
How refreshing. This is the stuff of Mark Cuban -- who, by the way offered an "atta boy" to Gilbert for his visceral response to James' departure. And it's a real pleasure to see another gazillionaire owner step up and not only be totally pissed off at a betrayal, but to find creative ways to exhibit his displeasure.
And fans are loving it.
LeBron's antics and Gilbert's response mark the start of a new era in the NBA because America loves an underdog. And Gilbert's recent rants have framed his team as the wronged party, the undeserving victim.
So here's to LeBron, traitor and all. Congrats. You just made the Cavs America's team.